Tee Out of X-Factor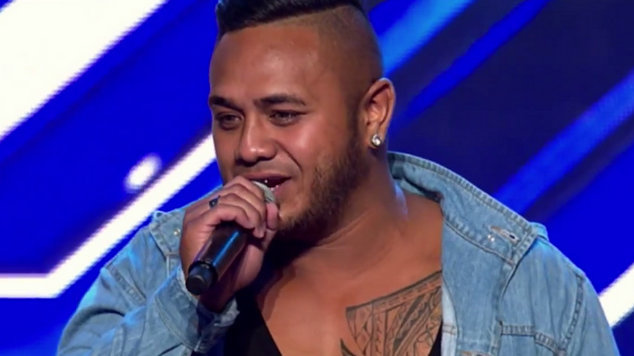 Ofisa 'Tee' Toleafoa's 'X Factor' journey has come to an end.  The aspiring singer lost a dead-lock vote from the judges. When the decision turned to viewers, Tee had failed to garner sufficient support.
Toleafoa has been a favourite of the queer community over two seasons of the show.
The singer first appeared in 2013 sharing his story of estrangement from his family over his sexuality.
In 2013 he was knocked out of the show during the 'home visits' round. Sent home by judge Ronan Keating.
This year he returned to the show for a second attempt. At the auditions he shared that he had now reconciled with his family who were supporting his journey.
This time  roundTee was mentored by Natalie Bassingthwaighte. During the series he traveled to New York to perform in front of guest judge Jennifer Lopez.
Judges Can't Choose Between Tee and Caitlin
Tonight however the journey came to an end when he was placed in the 'bottom three' alongside Caitlyn Shadbolt and Jason Heerah. Each contestant sang one final song.
Heerah took on The Beatles 'We Can Work It Out', while Shadbolt sung Carrie Underwood's 'Temporary Home'. Fighting for his survival Toleafoa delivered an emotional rendition of Joe Cocker's 'You Are So Beautiful'.
Ronan Keating and Red Foo voted to send Tea home. Natalie Bassingthwaighte and Danni Minogue nominated Caitlin on her way. The dead-lock meant the decision fell to viewers who had thrown their support behind Caitlin.
Before leaving the show Tee thanked his supporters, gave a shout out to God and praised his mentor Natalie Bassingthwaighte. The singer encouraged everyone to follow their dreams.
The show now has six singers left in the competition. Trio Brothers 3, Dean Ray, Reigan Derry, Marlisa Punzalan, Caitlyn Shadbolt and Jason Heerah are still in with a chance.
Ricki-Lee Appears in Stunning Vera Wang Dress 
Earlier in the evening Ricki-Lee appeared on the show. The 'Australian Idol' alumni sang her new single 'Happy Ever After'.
The singer stepped out in an eye catching Vera Wang wedding gown with a jewel encrusted belt.
Ricki-Lee is set to release her new album 'Dancing in the Rain'.  The recording of the album has seen her team up with some serious studio talent. Stuart Crichton, who has been behind albums by Kylie Minogue and Pet Shop Boys, has co-produced the album.
Take a listen to Ricki-Lee's new song below. 
Read More: X-Factor Saves the Best for Last
OIP Staff