Tegan & Sara: Up to Speed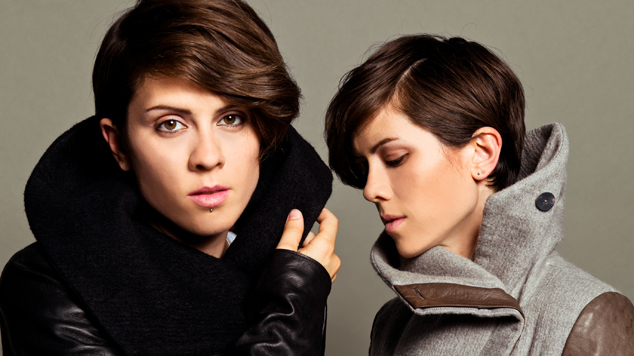 It's fascinating when a local queer community can propel you out of local bars and gigs and into full fledged international stardom. Canadian pop duo Tegan and Sara know a thing or two about the pros and cons of having a rampant lesbian following, and the power they yield.
"People liked it from the beginning maybe only because we were gay, then our music started to evolve and our music started to change. We feel like we are out and strong and positive and advocating on behalf of the queer community but on the other hand – we're just a band!", said Sara over the phone.
Despite the downside as sometimes being identified as 'that gay band', Tegan and Sara have taken the opportunity to advocate same-sex rights throughout a music career that spans nearly 20 years. 
"For me the idea of getting to be that person dragging those ideas and those morals into the mainstream is important! I want to be able to say 'we belong to here too'. I belong next to Katy Perry and Rihanna and Mumford and Sons.
"We shouldn't have to just be gay we should be able to be amongst our peers, but it's very exciting to me just to have the gay audience and to be able to say that we're popular amongst everyone."
Luckily for the identical twin duo, the loyal and longstanding fan base has met their shift from Indie to Pop with open arms, the track 'Closer' from their latest album 'Heartthrob' showcases a record that Sara describes as their strongest yet.
Although the Canadian duo are moving quick with changing times, Sara can't say the same for Australia's stance on same-sex marriage, the artist brimmed with passion and disappointment when asked about flagging Australian laws that still discriminate.
"Oh man. I go between feeling fierce, fierce rage. Then on the other hand I feel respect that we are the generation that will be part of the wave of change. I feel deep pride about Canada and the fact that I've grown up knowing I am equal, I mostly live in the US and I can tell you now.
"One thing I regret is when people talk about 'is the population ready? Is society ready?' And I'm like… fuck these people are ready! We will be ready. People accept it, they just do; this is what happens, it's happened with women's right to vote. We need to legislate from the top down and show society this is where we're at.
"For me it's an exciting time but it's also an infuriating time because we're just within reach of it."
Tegan and Sara are playing Metro City on May 9, grab tickets at www.oztix.com.au
Nadine Walker