Terry Healy: "There is a beautiful big rainbow over Southern River"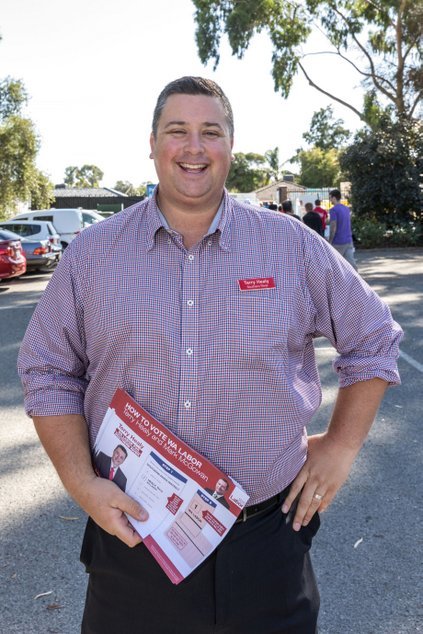 Through out the election campaign Terry Healy spoke to Southern River residents about the issues that mattered most to them.
A lack of new infrastructure in the region, which has seen a growing population, was one of their concerns. Employment prospects was another.
Many former Fly In-Fly Out workers who had build modest homes in suburbs like Gosnells, Huntingdale and Southern River were concerned about where the next generation of jobs were going to come from.
As a high school teacher, the former political staffer, had seen first hand the effects of cuts to education and rapidly increasing TAFE fees was having on the students he taught.
The father of a young family also saw the positive benefits programs like the Safe Schools Coalition were having in reducing bullying and engaging LGBTI students.
With the local MP Peter Abetz being on of the loudest voices against the anti-bullying program, marriage equality and transgender rights, Healy presented a clear distinction between himself and the two term member.
Early on Saturday morning both Healy and Abetz were out the front of a polling booth in Huntingdale trying to convince undecided voters that they were the best person to represent the electorate.
Healy had an early morning visit from leader Mark McGowan, but Abetz had brought star power to the electorate throughout his campaign with former PM John Howard, Premier Colin Barnett and high profile ministers hitting the campaign trail alongside him.
On Saturday night as votes were counted and the landslide result rolled in, Abetz told radio station 6PR that the it was clear he'd lost his seat.
Healy told his supporters that he was glad to be part of the team that will ensure WA students will still benefit from the anti-bullying Safe Schools project and better educational opportunities.
"I got in this because the kids in my high school were being attacked," Healy said.
"We had funding cuts. We had TAFE fees increasing.
"And now I get to stand up for my kids in Gosnells and Southern River and fight for them." Perth Now reported.
In front of a crowd of over a hundred supporters the newly elected MP thanked his volunteers.
"Friend's comrades, there is a beautiful big rainbow over Southern River tonight," Healy announced.
Healy said the change of government would produce some immediate results.
"Some things have already changed," he said.
"Our schools are now safer.
"We will build the Canning Vale train line.
"We will build two new primary schools and build new facilities for Southern River College.
"After too many years of cuts my students will have more education assistance.
"No more families will be told they are not families, which is very important."
When OUTinPerth spoke to Healy back in December 2016 he told us he wanted to make schools a better place, so he could return to teaching after making changes for the better.
OIP Staff, image: Kelly Pilgram-Byrne