The ParQ Bar: Perth's newest queer friendly space is ready to open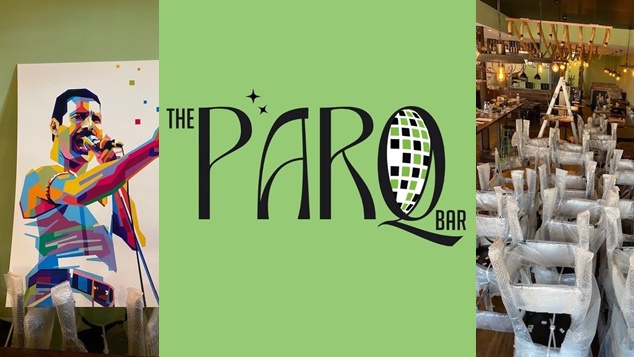 There's a tense mix of excitement and tension when we visit The ParQ Bar.
Perth's newest queer friendly space which will open its doors to the public for the first time on Thursday night.
Just a few days ahead of its opening there's a mountain of activity going on behind the blacked-out windows of the East Victoria Park venue.
Staff are gathered around the bar engrossed in a training session on the different drink the bar will offer, a big delivery has just arrived in the kitchen, and artwork is leaning up against the walls waiting to be attached.
Venue Manager Annalise Kelly shares that the pressure is on to make sure everything is ready for the bar's opening.
"It's very exciting for someone of my background and my age." Kelly shares. "It's like I've been handed by dream job."
At 21 years of age, Kelly is certainly younger than many of the industry stalwarts running bars and clubs across the city, but she's worked in hospitality for several years and worked on the opening of other venues in the past.
"I've got so much passion behind what I'm doing, not only as the Venue Manager of a small bar, but of an LGBTIQA+ venue."
As far as the bar's management team are aware, The ParQ Bar will be the first queer focused venue to appear on the Victoria Park café strip. Surrounded by acclaimed restaurants, funky bookshops, frozen yogurt vendors and purveyors of vinyl, the bar has secured a great premises.
For decades Perth's LGBTIQA+ community has enjoyed two LGBTIQA+ venues, affectionately dubbed the pub and the club, but attempts to establish a third venue have never found long term success.
In the last decade The Honey Lounge bar was opened in Leederville, but its popularity was short-lived, and more recently LAMB in Subiaco burst into life only to close down a year later.
The team at The ParQ Bar however won't need to worry about joining the long list of venues who have attempted to be Perth's third queer space. Following the opening The Flaming Galah in Fremantle late last year they are officially Perth's fourth queer venue.
"As we move further and further into the 21st century the community is grows, the identities in the community grow, and the people who identify with those identities grow. It's becoming bigger and bigger." Kelly said.
The ParQ Bar is aiming to offer patrons something the might not find at Perth's long established venues.
"We've looked at The Court, we've looked at Connections." Kelly said explaining that there approach has been to explore what patrons are looking for outside of the existing options.
What that might be is not yet locked in, the venue manager saying that while they've lined up a few events in coming weeks, they'll be speaking to clients to find out more about what they'd like to see taking place in the space.
"We're going for a small bar vibe, a queer space that is different." Kelly said. "It's a queer space that's all inclusive, but its not a club.
"We're still going to have a Friday drag nights which will be very camp, and we'll hopefully have DJs and live bands on the Saturday, but there's so much more we want to do like speed dating, gin night, and its a more low-key and casual space."
The ParQ Bar is at 838 Albany Highway in East Victoria Park and the doors will open tonight!
OIP Staff
---

You can support our work by subscribing to our Patreon
or contributing to our GoFundMe campaign.