Traditional marriage sticker greets visitors to Royal Show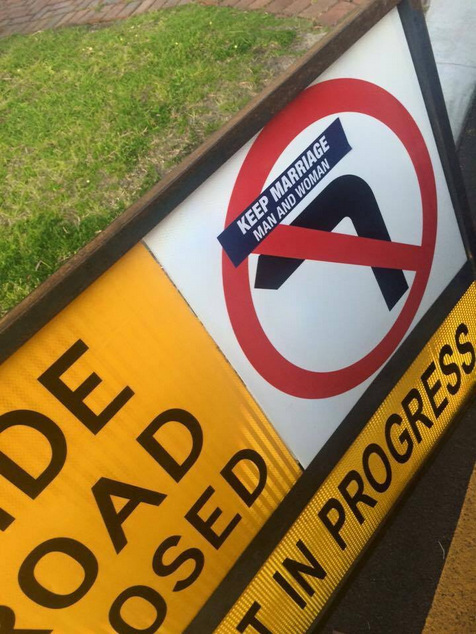 Perth's annual Royal Show has become the latest battle ground in the marriage equality debate.
A sticker declaring that marriage should solely be between a man and a woman has been spotted on a traffic sign outside the family focused community event.
The Greens senator Rachel Siewert has raised concern about young LGBTIQ people having to see the negative statements when they attend the show.
"Young LGBTIQ people, some of whom may still be coming to terms with their sexuality, do not need to see hurtful slogans when entering or exiting the Perth Royal show." Senator Siewert said this morning.
"Events like the Royal Show should be a safe space for everyone. For the LGBTIQ community who saw this sign, they're basically being told 'you're not welcome here'.
Senator Siewert is concerned about the messaging the LGBTIQ community will have to ensure if the government is successful in delivering their plan for a national plebiscite on the issue of marriage equality. The Turnbull government has pledged $7.5 million to both the YES and NO campaigns.
"This is a disgraceful example of how the plebiscite can be hurtful before it has even begun."
"Advocates for the plebiscite say that debate would be civil, but this is a debate that argues the rights of a marginalised group who are asking for equal rights. Hurtful materials being distributed already removes any argument that a genuine civil debate can occur.
"A plebiscite will hurt LGBTIQ people in WA and Australia wide, it should not go ahead". Senator Siewert declared.
The sticker was spotted by traffic controller Jasmine Andersen who has shared her concern about the effect the message may have had on the thousands of people who walked by the message.
OUTinPerth spoke to a representative from the Royal Show who said they were aware of the sticker but referred the matter to the Town of Claremont who handle the external traffic management.
The Acting CEO of the Town of Claremont Liz Ledger said the council was only aware of a single sticker and the council had been quick to remove it.
"This was the only sticker we are aware of and it was removed this morning." Ledger said. "Posting material of this kind is classified as 'bill posting' and is subject to penalties according to the Litter Act 1979."
Ledger said the council's staff will monitor the area and ensure that any stickers are removed.
The Royal Show stickers is not the only pro-traditional marriage sticker to be spotted in Perth this week. A bumper sticker showing the symbols of man and woman and and an equal sign followed by two gold rings was spotted on a car in Perth earlier this week.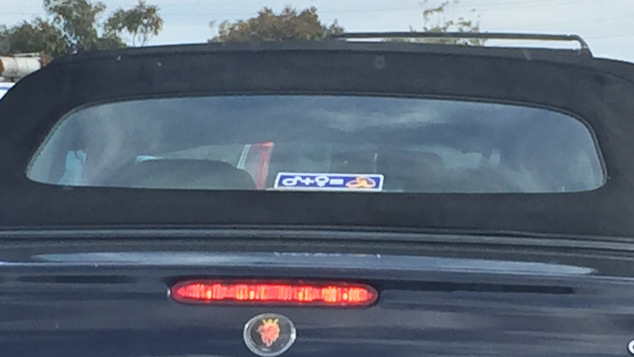 OIP Staff