Trans* Passport Breakthrough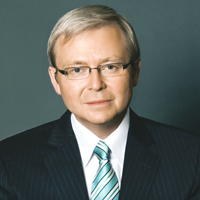 Transgender and intersex people will not have to undergo sex reassignment surgery in order to change the sex on their passport due to new guidelines announced today.
Foreign Minister Kevin Rudd and Attorney-General Robert McClelland announced the new guidelines for sex and gender diverse people today. The Foreign Minister said the amendments would make life easier for transgender people.
'Sex and gender diverse people now have the option of presenting a statement from a medical practitioner supporting their preferred gender,' Rudd said.
'This amendment makes life easier and significantly reduces the administrative burden for sex and gender diverse people who want a passport that reflects their gender and physical appearance.'
'Most people take for granted the ability to travel freely and without fear of discrimination,' McClelland said.
'This measure will extend the same freedoms to sex and gender diverse Australians.
'While it's expected this change will only affect a handful of Australians, it's an important step in removing discrimination for sex and gender diverse people.
'Importantly, this policy addresses a number of the recommendations contained in the Australian Human Rights Commission's Sex Files report.'
WA Gender Project spokesperson Aram Hosie said passport policy had always been a significant issue for transgender and intersex people.
'This is a fantastic development, I couldn't think of a way to improve on the policy,' Hosie said.
'I think it's the first time any federal government in Australia has made a policy change for the benefit of trans* and intersex people so it's a really encouraging development and it's going to make a very big difference to the lives of trans* people in Australia.
'Until now passport policy has been very reliant on what the state's determine a person's gender to be and most of the state's rely on a person having to go through sex reassignment surgery.
'What this change means is that people are no longer required to have sex reassignment surgery in order to have a passport that matches their lived identity which has been a massive barrier for lots of people.
'So for many people who previously hadn't been able to travel because it's been too difficult or too dangerous, they can finally have a passport that matches their identity and have the standard freedom to travel and move around that most people enjoy.'
Provisions for intersex people have been included into the new guidelines.
'The fact that they are making provisions for intersex people as well is really significant because too often intersex people get left out and they've looked after everyone with this,' he said.
Hosie had no reservations about the new guidelines and said the requirements were 'very achievable'.
Benn Dorrington & Vanessa Manivannen
***