Trent Zimmerman: "too many people are prepared to peddle prejudice"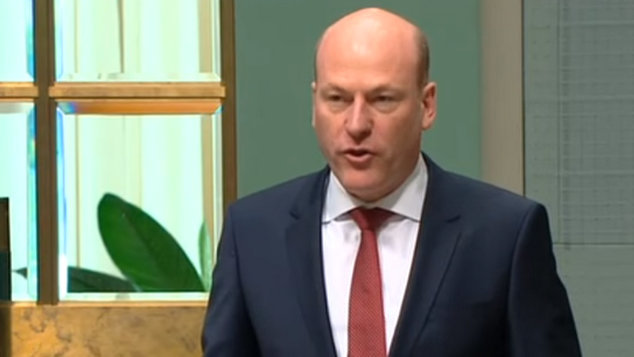 New Liberal MP Trent Zimmerman has used his maiden speech to back marriage equality.
Mr Zimmerman was elected to federal parliament in a by-election caused by the resignation of former treasurer Joe Hockey.
Mr Zimmerman is the first openly gay member of the Liberal party in the lower house.
Delivering his maiden speech on Wednesday the member for North Sydney said he was aware that it was the first time that an openly gay man had entered the House of Representatives.
"I'm proud to do so as a member of the Liberal party," Mr Zimmerman said. "I'm of course not the first in this parliament, and I pay tribute to those who have forged a path in the senate before me."
Mr Zimmerman said he had rejected advice suggesting that his sexuality was irrelevant in 2016, and that he shouldn't mention it in his maiden speech.
As colleague Warren Entsch looked on wearing a rainbow tie, Mr Zimmerman said Australia and come a long way in accepting gay and lesbian people.
'We do live in a time where we can be proud at how far we have progressed at breaking down centuries of discrimination against gay and lesbian people." Mr Zimmerman said, "This weekend, hundreds of thousands, gay and straight, will join together to diversity, acceptance and respect at the Sydney Mardi Gras.
Mr Zimmerman said the peaceful Mardi Gras celebrations were a reflection of modern Australia. The new MP also had some words for people who are opposed to the LGBTIQ community.
"While we have made great strides, discrimination remains and too many people are prepared to peddle prejudice. Our laws still deny access to marriage, our societies ultimate expression of love and commitment."
The politician used his maiden speech to highlighted that young gay and lesbian people experience greater levels of bullying, poorer mental health and suicide rates among LGBT people were significantly higher.
Mr Zimmerman said everyone needed to understand that sexuality was not a choice or a preference; "it is innate as the colour of their skin."
The new MP's comments come as debate over the Safe Schools Coalition anti-bullying program rages. In recent weeks Mr Zimmerman's coalition colleagues have suggested that the scheme, which aims to reduce bullying in schools and improve mental health outcomes of LGBTIQ+ students, is a campaign to convert students into a gay and lesbian life style.
Later in the day Mr Zimmerman appeared on ABC radio and gave the program his support. Mr Zimmerman said some of the language used by those criticising the program was deliberately inflammatory.
"Some of the language that's been used has been unfortunate … we have seen a tenor of language used which has been completely unjustified," Mr Zimmerman told ABC radio on Wednesday.
While the new MP was happy for the program to be reviewed he argued the goal should be to improve it, not remove it. Mr Zimmerman said it was essential that there was support for LGBTIQ students.
"But don't let us throw the baby out with the bath water because discrimination and intolerance can start at a very young age.
"And the psychological impact on those on the receiving end can be something they live with for the rest of their life."
Watch the whole maiden speech below.