Victoria's first transgender councilor voices support for Moira Deeming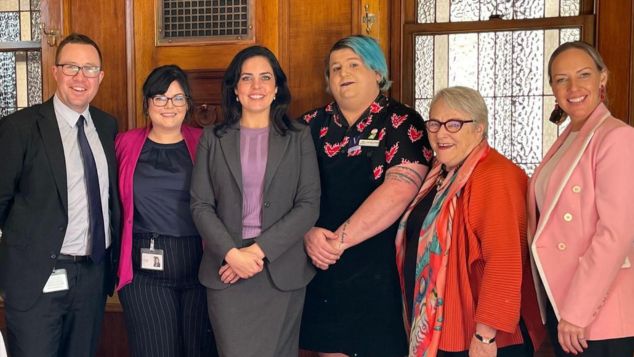 Victoria's first transgender councilor Tosh-Jake Finnigan has voiced support for MP Moira Deeming saying it is "as clear as day" that neither the former Liberal MP or colleague Renee Health have "some deep underlying hatred for transgender people".
The Colac-Otways councilor, who was formerly a Labor staffer, has described the treatment of both MPs by Opposition leader John Pesutto as an "indictment of the direction of the Liberal Party in Victoria".
The local government representative made the comments on a Facebook post after meeting with a group of conservative Liberal MPs at the state's parliament. In a photograph posted to social media, Finnigan posed next to Liberal Joe McCracken, One Nation's Ricki-Lee Tyrrell, now independent MP Moira Deeming, and Liberals Bev McArthur and Renee Heath.
Deeming was ousted from the parliamentary Liberal party after she attended a 'Let Women Speak' rally hosted by British provocateur Kellie-Jay Keen. She has subsequently commenced several defamation proceedings against Liberal leader John Pesutto.
Heath was stood down from her role of parry secretary following a dispute over the minutes of the first meeting that called for Deeming's expulsion. The minutes were subsequently leaked to the media, Heath has denied any involvement in the leak.
Kellie-Jay Keen's British organisation Standing for Women UK describes themselves as a group fighting for the rights of women, but they have been labeled an anti-transgender group and thousands of people turned up at her Melbourne event to protest. A neo-Nazi group also attended the event and stood on the steps of the Victorian Parliament making Nazi salutes and holding offensive signs in the direction of the supporters of transgender rights.
"Obviously we have disagreements on issues of policy, but it doesn't mean we shouldn't be able to sit down and listen to each other's concerns and see if there isn't common ground and a middle path to be charted," Councilor Finnigan said imploring the transgender community to engage in dialogue with those who have concerns.
"The reality is, all that the current political standard operating procedure of screaming at and demonising those who even mildly disagree with us achieves is further division, pushing opposite sides of arguments even further to the left and right." they said.
Finnigan said that after sitting down and chatting to Deeming and Health they had come to the conclusion that neither of them were "evil, malicious, or nasty" or held a "deep underlying hatred for transgender people."
The Colac-Otways councilor said if the Liberal leadership were serious about the issue they would have reached out to them for help and advice.
"If Messrs John Pesutto, (Deputy Liberal leader) David Southwick, (Upper House Liberal leader) Georgie Crozier and (Deputy Upper House Liberal Leader) Matt Bach (were) actually concerned with your alleged hatred towards transgender people rather than just seeking to shore up their numbers in the party room, perhaps they would have spoken to the only transgender elected official in Victoria to see what the party could do to address the issue, but instead, the very MPs they have decried as transphobic and homophobic were the ones to reach out and sit down to see what we can do to bring people together." Councilor Finnigan said.
Prior to being elected to local government as an independent councilor Finnigan founded the Restore Democracy Sack Dan Andrews Party and ran unsuccessfully in the state election. They first game to prominence as a whistleblower in the 2015 'Red Shirts' scandal that found Labor MPs were using public funds to pay staffers to undertake party campaigning.
Graeme Watson, OUTinPerth contacted Cr Finnigan for comment. 
---

You can support our work by subscribing to our Patreon
or contributing to our GoFundMe campaign.