2015 – the year in review: June
Continuing our series looking at what happened in 2015 – a lot of things happened in June!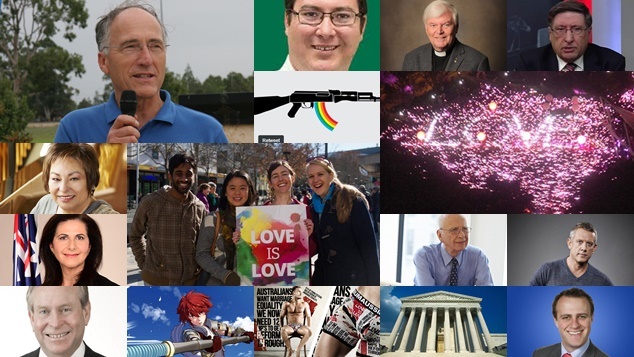 Transgender primary school students were in the news as local MP Peter Abetz argued that transgender children should not be allowed to compete in school running races.
WA's Equal Opportunity Commissioner applauded the school of a grade three transgender student for allowing her to compete in the school's annual sports carnival.
In June pressure was building on the coalition to allow a free vote on marriage equality following the landslide referendum in Ireland.

Prime Minister Tony Abbott had said that he wasn't prepared to look at the issue of a free vote for Liberal members unless there was legislation before parliament.
After Labor leader Bill Shorten introduced a private members bill in the lower house the Liberals were still reluctant to discuss the issue.
The Prime Minister said the issue shouldn't come from one party but should be owned by the whole parliament. Shorten later offered to drop his bill in favour of a cross party bill.
Pressure on marriage equality continued when some of the nation's biggest companies took out full page advertisements in national newspapers urging action. A fortnight later even more brands joined the campaign.
Three Nationals MP's voiced their support for marriage equality. Victorian MP Darren Chester voiced his support and a week later  Nigel Scullion and Kevin Hogan added their names to the growing list of politicians supporting marriage equality.
Darren Chester's support of marriage equality didn't go down well with LaRobe City Councillor Christine Sindt who published her opinion on her Facebook page. Chester threatened legal action and Sindt later apologised.
Labor's Kelvin Thompson also changed his mind about marriage equality.
A new poll showed that support for marriage equality appeared to be dropping in comparison to earlier polls. While another showed support for marriage equality was now over 50% in all age groups.
Thirty eight religious leaders wrote to the Prime Minister voicing their support for traditional marriage.
A staff at the Australian Christian Lobby vowed to divorce his wife if marriage equality was allowed in Australia. Nick Jensen said his marriage was a contract with the government and they had no right to change it's terms and conditions. The news made headlines around the world.
Former Attorney-General Philip Ruddock suggested that the government should maybe get out of the marriage business all together.
Government MP Concetta Fierravanti-Wells said the move towards marriage equality would be shut down by "the silent majority". To date the silent majority appear to have remained silent.
The Bishop of Port Pirrie declared that the children of LGBT couples would be the nation's next stolen generation. The Catholic Bishop explained his logic with an analogy that apples are not pears.
The Catholic Church distributed it's 'Don't Mess with Marriage' booklet. By the end of the year the publication would be highlighted in a complaint to the Tasmanian Human Rights Commission.
The ABC's 'Q&A' screened a gay focused episode that was hosted by Tom Ballard. Later in the year a review of the show would highlight the episode as being biased for not including enough panelists who opposed marriage equality. Fred Nile was the sole conservative voice on the panel.
Liberal advisor Graham Morris took to SKY News to explain his belief that Western Australia wasn't ready for marriage equality. Morris said we shouldn't take too much stock in the Irish referendum because the Irish could grow potatoes and has a "mutant lawn weed" as their national symbol.
Then Immigration Minister Scott Morrison said everyone should just "take a breather" and chill out about this marriage equality business.
The island nation of Guam began recognising same sex marriages, and so did Mexico. While Austria voted against introducing marriage equality. Then it all went totally insane when the US Supreme Court approved marriage equality.
US President Barack Obama delivered a stirring speech saying "America should be proud."
Get Up! and Australian Marriage Equality announced a major political rally in Perth for marriage equality. The response was so huge it had to be moved from the Northbridge Piazza to Russell Square. Over 10,000 people RSVP'd on Facebook.
Liberal MP George Christensen posted a picture on his Twitter account of a machine gun with a rainbow magazine and asked 'How many Australian's wanted to follow the USA's lead on marriage also wanted to follow their example on the right to bear arms?"
Prime Minister Tony Abbott was asked if he'd allow a plebiscite on marriage equality? The PM said his views on the matter we're well known. The PM had previously outlined his opposition to a people's vote on the issue.
Underwear that supported marriage equality went on sale and Nintendo brought out a game where same sex couples could wed.
WA's Premier Colin Barnett said he was not in favour of marriage equality but did support civil unions. The premier said he had always been a supporter of removing discrimination.
The claim raised some eyebrows in the LGBTIQ community from people who recalled the Premier's previous vow to repeal some of the gay law reforms achieved in 2002. On that occasion Mr Barnett had also claimed he was a supporter of removing discrimination.
Human Rights Commissioner Tim Wilson released a report on LGBTI issues in Australia.
Long standing union leader Joe DeBruyen was denied a tribute by the union he's been the leader of. The Australian revealed that the Shop Distributive and Allied Employees Associaiton has pulled a planned tribute to DeBruyen, many speculated that his conservative views on homosexuality has put him out of touch with the organisations membership.
Pride WA announced their new committee members following their annual AGM. This year saw a change in structure with the organisation forgoing it's tradition of having a male and female co-president.
Actor Simon Burke was awarded in the Queen's Birthday Honours. Also receiving recognition were a number of HIV/AIDS researchers.
Media mogul Rupert Murdoch took to Twitter to share his thoughts on presidential hopeful Hillary Clinton. Murdoch said Clinton sounded like a fascist when she spoke about LGBTI issues.
Singapore celebrated LGBTI rights with their annual Pink Dot event. This year a record 28,000 people attended.
There was good news for people in Mozambique when homosexuality was decriminalised.