2023 AIDS Candlelight Memorial remembers those we lost
Community members gathered at the WA AIDS Memorial in Robertson Park on Sunday night for the annual AIDS Candlelight Memorial.
As the scent of frankincense filled the air the crowd heard a personal story about living with HIV and the changes that have happened over the decades as treatment and medications have improved, and we were reminded of the fear, stigma and discrimination that was too common in the first decades of the pandemic.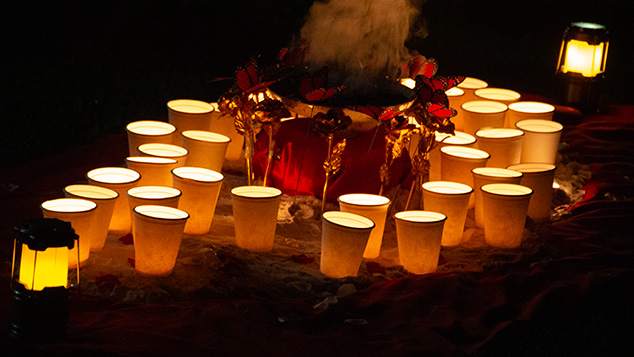 The Candlelight Memorial was started in 1983 by people living with HIV/AIDS to honour and respect those who they had lost, and to raise awareness about HIV/AIDS when little was understood about the disease. It has grown to become a global annual event, this year marks it's 40th anniversary.
Cipri Martinez hosted the event, and fulfilled the solemn duty of sharing the stories of five people whose names have recently been added to the memorial.
He shared the story of Aunty Vanessa, one of the first well-known indigenous trans women in Western Australia.
"She was integral in the campaign against HIV/AIDS and stigma in the early days in Sydney. Well-known and highly respected across the country, and the world for her endless advocacy work for LGBTIQA+ rights." Cipri Martinez told the crowd, sharing that even days before her death in January 2022 she was still fighting the battle for equality.
Another plaque being added to the garden of the memorial is for John McGregor Cunningham. Attendees heard how John and his partner Trevor enjoyed a career together working on Concorde flights back in the era of supersonic travel.
When John was diagnosed in 1984 it was in the days before researchers had identified HIV as the cause of so many people's illnesses, and there were no treatments to offer. He passed away in 1993.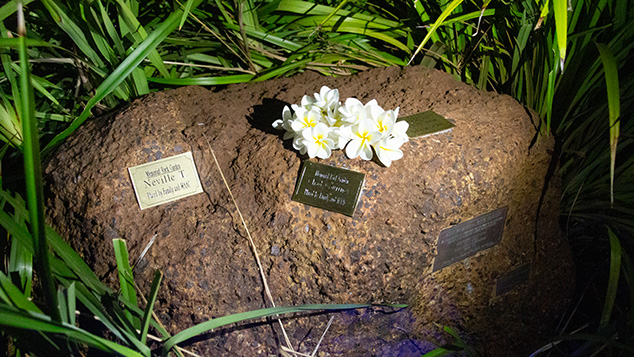 Chad Courtney was a talented dancer and choreographer who studied at New York's Julliard School of Dance before moving to Australia.
His career took to Perth, Adelaide and Sydney working across contemporary dance, education, musical theatre and film.
"Chad was adored by all who came in contact with him, and he's still loved and remembered by his Australia queer family." Martinez said sharing his inclusion on the memorial.
Courtney passed away of AIDS related lymphoma on December 30th, 2002. He was 40 years old.
The crowd also heard about the life of Peter C, a caring and passionate team member who worked at the WA AIDS Council, now known as WAAC.
"He was passionate and committed in every aspect of his life." Martinez said. "He was caring, considerate, the first to offer assistance if you needed someone in your corner, and above all someone who loved with whole heart."
Neville T was remembered as one of the original members of the People Living With HIV board and a fierce advocate for positive people. Described as a gracious kind and a thoughtful friend, he was in a loving long-term relationship with his partner Ian.
"He had a brilliant smile, and was a friend to all those who knew him." Martinez said.
Speaking to the crowd Michael shared his own journey through HIV, recalling how he felt when was first diagnosed with the virus in 1997.
At the time he was living in Germany working in a dance company and "living his best life".
"In the previous decade, up until this point, my career was like a rocket, working with some of the highest regard choreographers of the 20th century he shared." Michael shared.
While back in Australia on a break his HIV test came back positive.
"This was 26 years ago; I was thirty-one years old. The news came in the form of a phone call from a Sydney doctor. I was sitting in a motel room in Cairns and about to get on an international flight to return to Europe.
"In those days a positive result felt like a death sentence. There was no PrEP, or PEP, and ART, antiretroviral therapy – that blocks the virus at a cellular level was just starting." Michael said recalling his initial response to his diagnosis was being stunned with shock.
At the time many people living with HIV were finding the harsh medications being prescribed at the time often caused severe reactions and understandably Michael was reluctant to begin treatment.
Not long after he was diagnosed Michael had his first negative reaction from a medical professional. While on tour in Brazil he shared his diagnosis with a doctor who he recalled looked at him with homophobic disgust and began lecturing him about morals and religion.
"It reminded me of homophobia back in Australia that I'd experienced in my childhood. There it was – the reason I was keeping my diagnosis a secret." Michael shared.
It was not until he encountered the Gay Men's Health Crisis in New York that Michael found supportive people who encouraged him to begin treatment. Yet he still kept his status a secret from family and many friends.
"Skip forward twenty-five years, and here I am. Rarely sick, my immune system is still intact, thanks to medication which has turned an almost uniformly fatal infection into a manageable chronic condition.
"Now the disease sits in the background of my life." Michael said. "As a survivor I'm grateful for the people who fought and demanded action back in the day and want to pay respect to the generation of people who passed away from this disease. I am a beneficiary of hard work against invisibility and stigma." Michael said.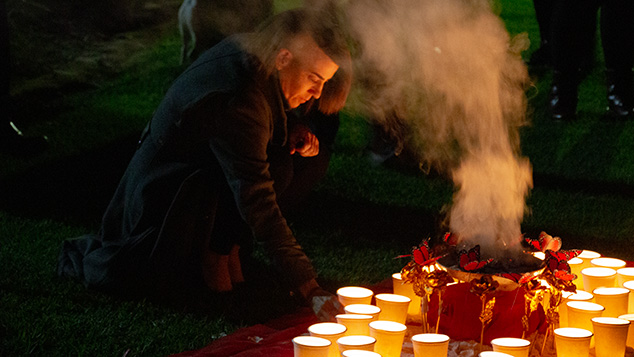 Graeme Watson 
---

You can support our work by subscribing to our Patreon
or contributing to our GoFundMe campaign.