Review | 360 ALLSTARS is a family friendly mix of hip-hop and tricks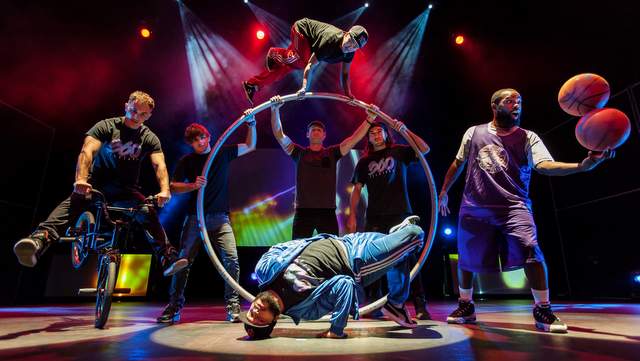 360 Allstars | Teatro | Until 10 Feb | ★ ★ ★ ★ 
Bringing together beatboxing, breakdancing, looping and a competition winning drumming extraordinaire, a b-boy soundtrack is created for a team of skilled acrobats, BMX bike riders and basketball bouncers to show off their unique skills.
This is the show that would come about from a circus taking up residence near your local skate park. The tricks that are seen on your local basketball court and BMX circuit are elevated to being a sensational spectacle.
Perth might have created Sam Perry, but New Zealand has Beau Monga. The beatboxer and looper opened the show and created a live soundtrack that had the power of 20 voices, hard to believe all that sound was coming from one person.
Monga was matched on the opposite side of the stage by the creator of the show, Gene Peterson. A champion drummer who definitely brought the beat and banged it out hard. To this thumping soundtrack there was a series of performances that captured your attention.
Rowan Thomas is an expert with the Cyr wheel, delicately balanced within the giant ring he presented a flawless demonstration of his skills. Belgian Bavo Delbeke is one of the world's best freestyle basketball players and he showed off his dexterity and coordination, while Peter Sore from Hungary balanced on his bmx bike with spectacular skill.
Joining them were breakdancers B-Boy Sette and B-Boy Leerok who flipped, spun and bounded around in a style we haven't seen since we shouted "Hey You!" and the Rock Steady Crew showed us how to break a beat and make a move.
While each of these performers moment in the spotlight was enjoyable, the highlight of the show was when they all came together and combined their skills in a comical sequence. This is a great family friendly show, and the kids who were sitting in the row in front of us were laughing hard and screaming their lungs out.
360 ALLSTARS will be at the Pleasure Gardens until Sunday 10th February. Tickets and more info at Fringe World.
Graeme Watson