Joel Creasey, the Juggernaut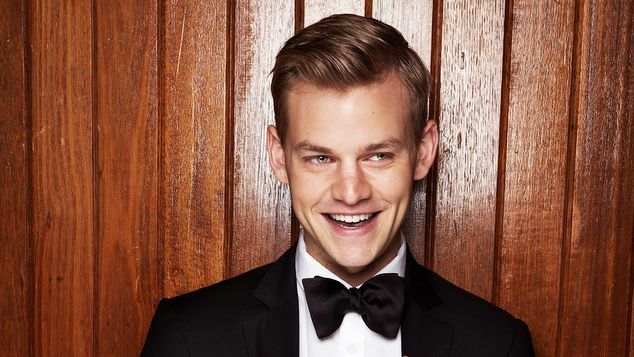 Busy-bee Joel Creasey has been darting around the world, pollinating our lives with his cheeky brand of comedy. As he heads back to his hometown of Perth to debut his brand new show, our most interviewed celeb had a kiki with Leigh Hill over the phone about TV, Real Housewives and being raised right.
What have you got planned for today Joel?
I've got a gig here tonight then I'm up at 4am to get ready to the Polo in Victoria so I've got to fly back and get in the car and drive down there but I'm very excited because I'm going as a guest of Andrea Moss from Real Housewives [of Melbourne].

No! Shut up!
Yes!
Is she going to come back next season or what?
I hope so! I miss her.
Let's bring her back, she's the best one. She was the angriest.
"Do you even own a tennis court?"
She and Gina were the best.
We should lock them in a room and let them have at it. It'd be like lesbian mud wrestling at Connections.
So will you be performing your new show for Ms Moss?
No! Perth is the debut, it's almost sold out and it's literally the first ever performance. That's the cool thing about Perth is that you may get to see things that won't be in the rest of the show because my lawyers will make me take it out. Perth's getting the real deal.
Oh, and what kind of jokes can we expect people to get litigious about?
I'm pretty honest about my break-up, I've got a lot of stories from backstage at the ARIAs. I was at Telethon this year in Perth and some GREAT stuff happened backstage there. I've got a lot of opinions on a lot of different things that I want to share with Perth.
Does the show have a theme to it?
The show doesn't really have a theme, it's just 90 minutes of laughs. I'm not trying to change anyone's opinion of anything. You don't have to think too hard, I'll do it all. Come along and we'll laugh at people. I've got a rule: If you come to my show, you're safe. Anybody outside the room, you're in trouble.
So you won't be pulling a Bianca Del Rio then?
No, no! If you're in my theatre, you have my protection. I was raised the right way, I was taught to speak behind people's backs.
Make sure you're in Joel's safe zone and grab your tickets to the debut of 'Juggernaut' at the Astor Theatre on Thursday January 14th. Tickets available from astortheatreperth.com.au.