OUTspoken: Local queer talent at Perth Poetry Festival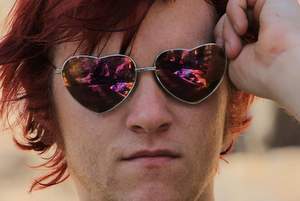 OUTspoken is returning for a second edition for this year's Perth Poetry Festival, celebrating incredible local queer talent.
Ten authors will be reading at the event, including PFF 2016 feature poets Alex Biddle and Jakob Boyd (pictured), Ben Marchant, Luka Buchanan, Kai Schweizer, Jesse Oliver and MC Scott-Patrick Mitchell.
All are welcome to try their hand at wordplay on stage during the open mic section, and all proceeds from the evening will be donated to Equality Florida to support those effected by the Orlando massacre at Pulse Nightclub.
Scroll below to read six entries from some of the best local voices on the poetry scene.
OUTspoken is on Friday August 12th from 7pm at the Balmoral Hotel, 901 Albany Highway, Victoria Park. $5 tickets available next door at Crow Books, 900 Albany Highway, Victoria Park. 
Perth Poetry Festival runs August 5th – 14th. For more information visit WAPoets.net.au.
---
UNTITLED
I forget I'm supposed to fear for my life
I forget all the statistics in my blood
cause i was raised in a house
where the worst was being kicked out
on my own terms
my daily problems are pronouns
progression is my social adjective
I forget
that there are days I don't pass cis
I pass as the chance of being 1 in 12
being the scattered roses Orlando bloomed in blood
being the spit I have felt on my cheek
being every knife I have witnessed on the news take a swing at everything we fight for
im told i gotta
trans-ition quick! be as safe as you can
be a model, be a man in a can just with extra waist band
I forget, that there are days no one would even question my gender
I am safe because they do not know
I am safe only because they do not know
what would happen if they know
I do not know
I only know
I am not a statistic today
i forget that
Alex Biddle
---
MERMAID
Im sorry I let you go after holding on for so long
Its just that I couldn't keep my head above the water without you.
I felt betrayed.
I can barely swim by myself
I mean, I got in by myself
But you told me you were a mermaid
And I waited frustrated for undated days
amazed that we were slowly drowning
Before I realised I had dived into a world
That wasn't meant for me
and I could never be
with you in it.
I placed you higher than the air that I breathe
convinced that all I would need is you
but you had me holding my breath for longer than I could bare
leaving me down there in the dark depths
where the only steps I could take
were the same mistakes I make
to put me where I thought
we would be swept by the same current
I don't blame you for being a mermaid
if you think that matters to me it doesn't.
It's just, the thing about being a mermaid
is that I never told you I wasn't.
Jesse Oliver
---
PHALLIC FANTASY
there is
no art
to describe
tongue
on arsehole
there are
no sounds
associated
with the roundness
of cock
there are no films
about these
slender legs
the way they
announce it
no one
talks about
stubble
in the right way
no paint
could portray
the taking
of this second virginity
these images
in the dark
of hot cradled hands
on temples
no word in my mouth
could cum out
like this
or being sober
the whole time
and watching
as sex clocks
melt
murder
masturbate
to the turning
of phallic fantasy
into fact
he gave me a lift home
and you cannot imagine
the unacknowledged
understanding
in the car
Jakob Boyd
---
HYMN
his heart was an
arcade fire, band
width banded to
get here turn left
& keep running
do not look back
for your lot is to
burn as white as
salt & when the
horns kick in we
pull over, seats
made for loving:
the speed by
which we cum
shall not break
our necks : there
is no guilt in us
Scott-Patrick Mitchell
---
MONDAY MOURNING
Monday morning
We woke and waned
With glitter on our cheeks
And vomit on our shoes;
Enveloped in a sadistic
Kind of sadness.
We're living in homes
Made of makeshift bones,
Shedding our blood like
Milk teeth.
My melancholy mornings
Turned to melancholy months.
I shivered awake in strange suburbs,
Warmed my head
In kettles and coffee pots
And caught the hungover bus home.
I saved you a seat.
Kai Schweizer
---
THE END
i don't believe in god
but i believe in poetry:
our voices rising up a tidal wave of politics
and fear
still as the sand, we wait
holding each other together like tape on a shipwreck
and with the explosion of panic still ringing in our ears
we pray.
we pray for the woman with poetry written
in the lines of her face
we pray for the ghosts of poems abandoned
and the ghosts of whoever we used to be.
we pray for the empty night sky
and to all the gods who turned their backs on us.
we pray for ourselves because the universe is expanding
in the same way the distance between us is
always
god wrote a poem for us
to bring us back to life
and it appeared in the sky as a sunbeam but we couldn't read it
it fell on our faces as rain but we couldn't hear it
it came to us as a flower but we overlooked it
so we wrote it ourselves.
god tore the sky in half
and told us we were kidding ourselves
he told us it was an echo that would die in time
old light that would never make it halfway across the galaxy
but we knew better.
we sang it a thousand times
until the moon knew our names
and it was writ in the stars
and the sun whispered it in summer
and cried it in winter
and it lives on in the throats of forgotten people
we never needed a miracle:
we rise from the wreckage like we always do
anxiety dust and ocd shrapnel
pulling shards of depression from our skin like glass
we whisper final lines of that forsaken poem
it spills from freezing lips like hourglass sand
and then
it hits
Luka Buchanan
---