WA Health Minister voices his opposition to gay conversion therapies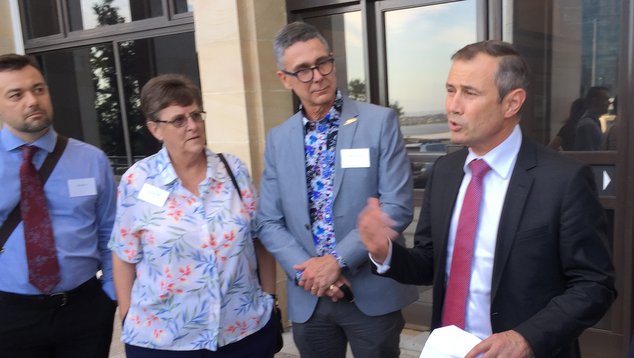 Western Australia's Health Minister Roger Cook has restated his opposition to gay cure therapies and says people who come across professionals promoting counselling therapies should report them.
The Health Minister made the comments in response to an online petition urging the federal government to introduce laws that outlaw conversion therapies. The Victorian government has already brought in laws but activists are pushing for the issue to be tackled at a federal level.
"I am strongly opposed to and do not support the use of sexual orientation change efforts of any kind." Roger Cook said in his letter. "The Australian Medical Association, the Royal Australian and New Zealand College of Psychiatrists and the Royal Australasian College of Physicians are strongly against psychological practices that attempt to change sexual orientation, as is the Australian Psychological Society and Australian Psychological Association.
"Any public or private psychiatrist or psychologist practicing psychological practices that attempt to change sexual orientation may be in breach of their professional code of conduct and code of ethics and I strongly encourage the reporting of these breaches."
Gay Conversion Therapies are programs which promote the idea that a person can change their sexuality. In recent years publicly promoted courses have disappeared, but researchers suggest the practice has just been drive underground.
The Health Minister said Western Australians who come across such practices should report them.
"Western Australians can report breaches to the Health and Disability Complaints Office (HaDSCO) or by contacting the complaints and enquiries line: (08) 6551 7600.
"Alternatively, individuals can make a notification to the Australian Health Practitioner Regulatory Agency (AHPRA). AHPRA is responsible for the regulation and accreditation of psychologists and doctors in Australia. For instructions on how to make a notification please visit the AHPRA website at or call AHPRA on 1300 419 495."
While there are systems in place to deal with licensed counsellors the Minister acknowledges that there is an insufficiency when it comes to unlicensed counsellors offering programs.
"The counselling sectors are currently unregulated in Western Australia and counsellors are not required to be registered with an agency such as AHPRA to practice. This means reporting and identifying individuals and organisations practicing psychological practices that attempt to change sexual orientation is difficult."
The Minister said that HaDSCO, Western Australia's Health and Disability Complaints Office, is currently considering the adoption of the National Code of Conduct for health care workers. The National Code of Conduct sets minimum standards of conduct and practice for all unregistered health care workers.
"Psychological practices that attempt to change sexual orientation would likely be a breach of the National Code of Conduct and I will be raising this issue with HaDSCO." Minister Cook said.
Roger Cook said that Western Australia was also looking at the methodology used by Victoria who had introduced specific legislation and created the position of a Health Complaints Commissioner.
"I am aware that the State of Victoria has passed the Health Complaints Act 2016 and established a Health Complaints Commissioner to handle complaints about both registered and non-registered general health service providers. I intend to examine the outcomes of the Victorian Health Complaints Commissioner and determine if similar legislation is required in Western Australia.
"The health and wellbeing of the Western Australian lesbian, gay, bisexual, transgender and intersex (LGBTI) community is important to me and practices that attempt to change sexual orientation are abhorrent and negatively impact the mental health of LGBTI persons." Minister Cook said.
The Western Australian government is currently developing a specific LGBTI Health strategy and have funded several LGBTI community groups to help ascertain the spefici health needs of gay, lesbian, bisexual, trasngedner and intersex people in the state.
Roger Cook's comments come as the Australian Christian Lobby announced it would be launching a campaign against the push to have the practice outlawed.
The Managing Director of the Australian Christian Lobby says 'LGBTI conversion therapy' is an Orwellian phrase designed to mislead people.
"It is an Orwellian phrase. It evokes images of electric shock treatments, bizarre rituals, and abuse." Iles said in an article titled They Want Your Children which was posted on the organisation's website.
Iles, who took over the leadership of the organisation from Lyle Shelton earlier this year, says that the Labor party's policy of opposing the practice of offering programs that assist people who are concerned about being same-sex attracted should be a concern for Christians.
The ACL says exposure to information about gender and sexuality could lead to children accidentally assuming they are transgender or same-sex attracted, and it is important that people who do not wish to identify as gay or transgender have access to services that support them.
OIP Staff, Image: Health Minister Roger Cook announced funding for the LGBTI Health Strategy, November 2017. 
---