Advocates welcome Launceston Examiner apology for anti-trans letter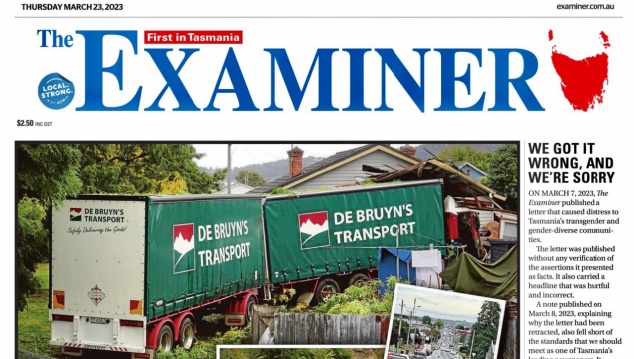 Equality Tasmania has welcomed an unreserved apology to the trans and gender diverse community from the Launceston Examiner for a false anti-trans letter published on Tuesday, March 7
The apology was published on today's front page.
"The Examiner published a letter that caused distress to Tasmania's transgender and gender-diverse communities," the apology reads.
"The letter was published without any verification of the assertions it presented as facts. It also carried a headline that was hurtful and incorrect."
The apology also acknowledges the recently-ousted editor, former Katherine Deves campaign manager Mark Westfield, had not offered an apology with the letter's original retraction.
"A note published on March 8, 2023, explaining why the letter had been retracted, also fell short of the standards that we should meet as one of Tasmania's leading newspapers. It offered an excuse when it should have offered an apology."
"The Examiner accepts that the letter should not have appeared. We acknowledge that its publication, and comments in other forums that followed, caused hurt to members of our community who may already face the cruelty of vilification and harassment in their daily lives."
"The Examiner therefore apologises unreservedly to the transgender and gender-diverse communities for the error. We let you down, and we are sorry."
Equality Tasmania spokesperson, Rose Boccalatte, thanked the Examiner team for publishing the apology.
"We thank the Examiner for fulsomely apologising for the fake, transphobic letter it published and for the hurt that letter caused," Boccalatte said.
"At a time when many trans and gender diverse people feel overwhelmed by the noisy minority who vilify us and seek to roll back our rights, this apology comes as a welcome show of support and respect."
"I can't speak for every trans and gender diverse Tasmanian but I, for one, accept the apology and look forward to working with the Examiner to foster a more inclusive Tasmania for all LGBTIQA+ people."
---
Do you need some support?
If you are struggling with anxiety or depression, support and counselling are available from:
QLife: 1800 184 527 / qlife.org.au (Webchat 3pm – midnight)
QLife are a counselling and referral service for LGBTQIA+ people.
DISCHARGED: [email protected] / discharged.org.au
Discharged is a trans-led support service with peer support groups for trans and gender diverse folks.
Lifeline: 13 11 14 / lifeline.org.au
Beyondblue: 1300 22 4636 / www.beyondblue.org.au
---

You can support our work by subscribing to our Patreon
or contributing to our GoFundMe campaign.