Alan Joyce copped pie in his face over his support for marriage equality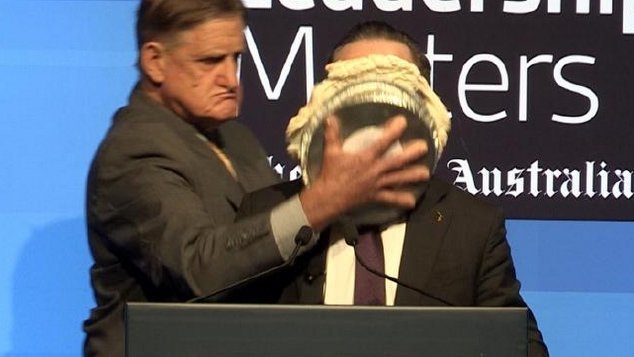 Tony Overheu, the man who took to the stage during a business breakfast yesterday and shoved a pie in the face of QANTAS boss Alan Joyce, says he did it because of the airlines "corporate bullying" over marriage equality.
Speaking to Perth radio station 6PR Overheu said he was opposed to the airlines "propaganda" promoting marriage equality.
"Middle Australia completely rejects corporate bullying aimed at social engineering.
"QANTAS is insulting many staff and passengers with their boarding pass propaganda. What airbnb are doing in Canberra airport is highly offensive. Outfits like Wesfarmers and Holden lose huge credibility supporting such campaigns.
"The blatant bullying and extortion of Coopers Brewery was totally reprehensible." Overheu said.
The 67 year-old farmer, who is a reportedly a member of The Church of Christ in Willetton, said Australia's CEO's needed to respect that Australia is a democracy.
"Alan Joyce is paid 13 million dollars to run airlines not to bulldoze Australia socially against his will." Overheu said.
Overheu said his family were outraged at his actions. He said he was unaware that he would be committing an offense under the state's criminal code.
He said he selected a lemon meringue pie because he thought it was the softest cake and would be the least likely to hurt Joyce. The farmer admitted that he had hidden behind the stage where Joyce was speaking for several hours.
Overheu told Steve Mills and Basil Zempilas said his religious beliefs were not relevant in the debate, and he had spent 50 years of his life defending democracy.
"We were promised as a nation that there would be a vote. The latest surveys are very clear that that vote would not pass, in spite of what's being promoted by the proponents. They understand that, and that's why they are trying desperately to 'get in through the backdoor'". Overheu said.
Marriage Equality advocates say the incident reflects badly on all people who oppose equality
Lyle Shelton, the Managing Director of the Australian Christian Lobby has condemned Overheu's actions via Twitter, declaring that "violence, bullying, and intimation is never OK. Pie Man is wrong."
Marriage Equality advocates say groups like the Australian Christian Lobby need to do more to make sure they supporters understand that this kind of behaviour is unacceptable.
Just.equal spokesperson, Ivan Hinton-Teoh, said Mr Overheau's actions had damaged the credibility of supporters of 'traditional marriage'.
"The assault against Mr Joyce has no place in Australian political debate and has damaged the credibility of the entire movement against marriage equality."
"We call on the Australian Christian Lobby, and other groups and public figures who oppose marriage equality, to condemn the attack on Alan Joyce and take steps to ensure their supporters understand this kind of behaviour is not acceptable."
"There is a clear link between the outrageous, fear-based campaigns being run by anti-LGBTI groups and the assault against Mr Joyce, a link that these groups must be held accountable for." Hinton-Teoh said.
just.equal said Immigration Minister Peter Dutton should shoulder some of the blame for yesterday's incident. Last month the Liberal minister criticised business leaders who support marriage equality telling them to "stick to their knitting."
"Mr Dutton may not have thrown the pie but his comments created a climate of resentment and loathing towards business leaders who support marriage equality.
"He has a responsibility to make it clear that all civil and respectful voices have a valued place in the marriage equality debate.
"The best way to ensure this unacceptable behaviour doesn't happen again is for the Government to allow a free vote so marriage equality can pass asap." Hinton-Teoh said.
"In the meantime, there must be civility on both sides of the marriage equality debate."
Police charged Overheu with providing false details and he may face further charges for assault.
OIP Staff Update: 11:13 Comments from just.equal added.