Helping Hands: How can we be better allies to other LGBTIQ+ people?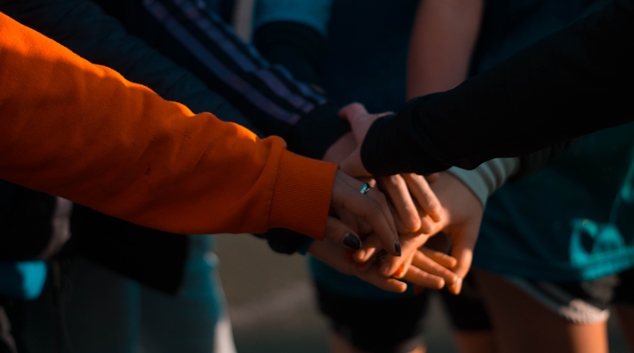 Lately I seem to be surrounded by people who identify as Allies to the LGBTIQ+ community. I feel like we generally have a clear and concise idea of what we expect from these Allies and (rightly so) we constantly demand for them to be held up to our benchmarks. We have manuals and trainings and policy examples and about a million YouTube videos that help people learn about our experiences and the dos and don'ts of being a great Ally. Now this is a wonderful thing. But what about allies from within our community?
Do we have the same clarity and level of expectation for LGBTIQ+ folks to be allies to one another?
What does Allyship look like between people that live under our rainbow umbrella?
What can we do better to support one another?
Get to learnin'!
Contrary to popular belief and quite unfortunately when you "come out" or have a realisation about your identity/ies you don't get a welcome pack complete with helpful definitions, resources and supports. LGBTIQ+ folk also need to learn about the complexity and diversity of bodies, relationships and experiences that exist within our wonderful community. LGBTIQ+ cultural competency courses aren't just for cishets! Learning more will not only help you be a better ally to other queer folks, it might also help you understand yourself a little better too.
Share that money, honey
If you're going to be spending some serious cash, why not support your queer family and throw those bills at some LGBTIQ+-owned businesses, groups or services?
    Check out Australian Queer Business Network on Facebook to find an LGBTIQ+ owned and operated business and support them wherever and whenever you can

    Advertise your own business or event in the LGBTIQ+ media and encourage your workplace, friends and family to do the same. What was the name that awesome LGBTIQ+ magazine in Perth again…?

    Make a tax deductible donation to any of our amazing local LGBTIQ+ groups and organisations so they can continue to provide services that help our community be resilient and thriving.
Use your words
    Advocate for our local groups, services and businesses in whatever spaces you exist in. Often in the LGBTIQ+ community we don't voice our support until something is under threat of disappearing. Helping raise awareness about what is around will let the wider community know how much we value what we do have.
Got skills?
A little low on funds? What about considering volunteering your time? Many groups, services and businesses would so desperately value what you could contribute. Don't just look for traditional volunteering either, offer up your skills and expertise in a particular area. Are you a social media guru, a design whizz, perhaps can you write a killer funding application? There are no limits to the ways in which you can help.
This also goes for knowledge gaps that exist within our services and groups. If you have a particular lived experience of intersectionality, then offer up your knowledge to help develop our groups and services to be able to meet the needs of all members of our community. Don't pull down groups, services and organisations for what they don't do, help build them up to be their best.
Have you thanked a queer today?
Lastly, make it a regular practice to thank the queers in our community. Thank them for their time and for the heart and soul they put into their work and activism. Send them with an email or sparkly card when they get something right or do a great job. Let someone know what their services, supports or visibility mean to you. Working in peer spaces can be difficult, exhausting and complicated, but it can also be the most rewarding thing in the world when someone thanks you for the work that you do, or for simply just being you.
Just like becoming an Ally to the LGBTIQ+ community, becoming an Ally within the LGBTIQ+ community takes time, introspection and constant reflection. But surely being better Allies to one another will only serve to help us all.
Bella Broadway