Annie Lennox Turns to Jazz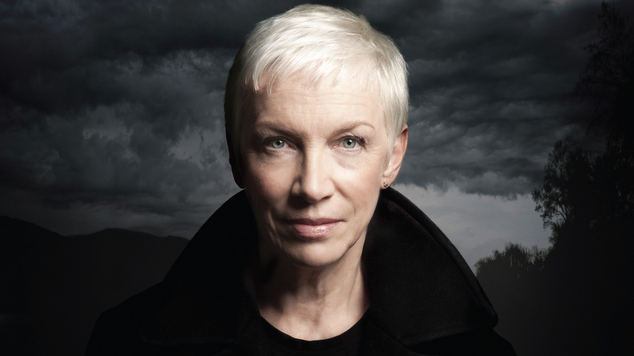 Annie Lennox has a brand new album out this month called 'Nostalgia'
The album is a collection of jazz songs which is being released on the legendary jazz label Blue Note in USA and on Island Records in the rest of the world.
Lennox has described her approach to recording the songs in a video to promote the album. Lennox said she had a great level of curiosity about these older songs.
Discussing her approach to recording the album's first single 'I Put a Spell on You, Lennox said she wanted to get back to the blues origin of the Screaming Jay Hawkins tune.
"Foe me I went deeper," Lennox said, "I went deeper because for me the origins of these songs comes from the blues and blues comes from something beautiful and painful, and it's a mixture of the two things. That's an area that I know very well.
"This song, it's like the vengeful woman, there's so many philandering men in the world." the singer said with a smile, "and so many women have felt that vengefulness, and that's what I love about it.
The singer describes herself as a man loving feminist, but said that some men's behaviour is very disappointing.
Covers Feature Throughout Singer's Career
The album will be Lennox's sixth solo release. Her last album was 2010's 'A Christmas Cornucopia'.
Over her career the singer has sold millions of records starting in the late 70's when she was a member of the UK band The Tourists. The band released three albums of material in just two years but their biggest hit was a cover of the Dusty Springfield tune, 'I Only Want to Be With You'.
After The Tourist's split up Lennox and Tourist's band mate Dave Stewart formed The Eurythmics. Between 1980 and 1990 the duo released eight albums. During their time together the band cover Lou Reed's 'Satellite of Love', David Bowie's 'Fame', The Doors' 'Hello I Love You', The Beatles 'Come Together' and 'My Guy', which was originally by Smokey Robinson and The Miracles. The Eurythmics also delivered a version of The Smith's track 'Last Night I Dreamt That Somebody Loved Me'.
Annie Lennox's first solo outing was a duet with soul legend Al Green. Together they covered the Jackie De Shannon song 'Put a Little Love in Your Heart'. The track was produced by Dave Stewart.
The Eurythmics has a ten year break while both Dave Stewart and Annie Lennox pursued solo careers. They got back together in 1999 and released another album. Their final (as yet) album together featured a cover of 'Something in the Air', a hit for Speedy Keen in 1969.
In 1992 the singer launched her solo career with her 'Diva ' album. It spawned a plethora of hits including 'Little Bird', 'Walking on Broken Glass', 'Precious', 'Why' and 'Cold'. 'Step by Step', the b-side to 'Precious' was later recorded by Whitney Houston.
Lennox followed this album up with 'Medusa' her first collection of covers. On the album she tackled tunes originally sung by men. She scored a huge hit with 'No More I Love You's' which originally recorded by little known British band A Lover Speaks. Also on the album are tracks from Procul Harum, Al Green, The Clash and Neil Young
In 2003 Lennox released the very personal album 'Bare' and in 2007 she brought out 'Songs of Mass Destruction'. On her Greatest Hits collection Lennox included a cover of Ash's 'Shining Light'.
In a recent interview Lennox said she no longer writes because she needs inner turmoil to be creative. The singer said her life was now very happy and she'd stopped writing all together. The singer also noted that 'Nostalgia' may be her last album. Annie Lennox will celebrate her sixtieth birthday at Christmas.
Annie Lennox – Summertime

Annie Lennox talks about 'Nostalgia'