Antarctica to host continent's first Pride celebration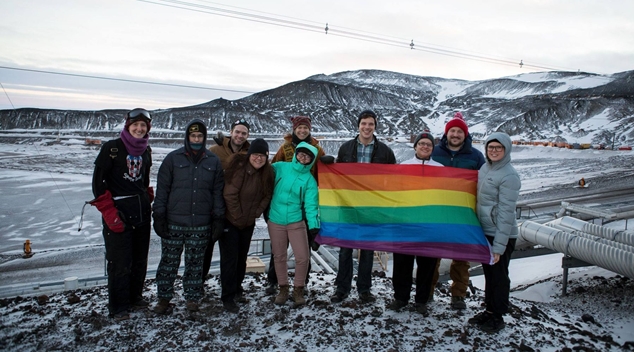 Antarctica is gearing up for the icy continent's first LGBTI+ Pride celebration.
Approximately 1300km from the South Pole, The United States' McMurdo Station will commemorate their home nation's Pride month this June.
Shawn Waldron, Evan Townsend and eight others from the station starting preparing for the icy Pride back in April, ahead of the continent's extended period of darkness.
"Why not take this photo and let people see that there's queer representation – even at the end of the Earth," Waldron told NewNowNext.
The station is home to almost 900 people during the summer, with a small LGBTI+ network who come together for events and RuPaul's Drag Race viewings.
"We had a new LGBTQ social events that people showed up to and also because it's such a small community, it's easy to find out who is and who isn't in the LGBTQ community," Townsend added, "My biggest fear before I left was, I'm going to be the only gay person, there's going to be no one else here. I was wrong."
"Having an example of somebody who travels and can have those adventures would've been a great thing for me as a kid but even more so being able to see that there are queer people out there who are proud of their queerness and that in no way inhibits them from living these adventures."