Axe Girl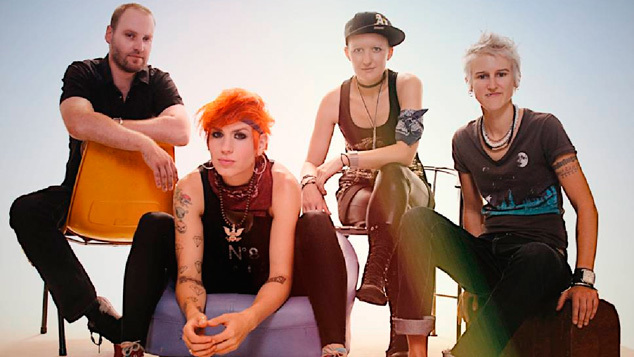 Perth's rock scene has a swathe of strong women rocking out the sounds, with the likes of Abbe May and Felicity Groom making sure the double X is represented. But it's taken the unique insight of a West Coast outsider to take the rock chick formula one step further and create a veritable super group: enter Axe Girl.
Heading up the Axe Girl experience is the fluro orange haired Addison Axe, a formerly based UK actor and singer songwriter.  She's joined by Ness Thornton (Jebediah) and Nat Ripepi, two of the local industries most respected female musicians, and drummer Brett Mitchell (Jebediah).
'I was over for the Fringe Festival doing a show and us guys just started jamming and it felt really right,' said Axe of how the band formed. 'I honestly didn't want to go home really, but I had to go back and pack up a few things so I could head back.'
Axe is a feisty, life-loving ball of musical energy whose point of view is as loud as her hair.
'Playing music is always what I've wanted to do ever since I was five years old and was watching Top Of The Pops (The UK equivalent of Countdown). I used to mime along with air guitar and then my dad bought me a real one, and since I was 11 I've been writing songs and been in bands.'
And now here she is, in sunny old Perth, cutting a new sound for herself and her band members. It's a brash, loud statement that starts in your toes and, very soon, makes you want to dance. It's sultry, but only for that instant before it rips your speakers apart.
Axe is planning on making Australia her home base for now, the appeal of an antipodeans' adventure and all it can yield far more intriguing than an Olympic London.
And with a winning team behind her, Axe seems destined to go for gold. After all, Axe Girl are getting more and more gigs around the traps.
'We've got loads of shows booked.,' Axe confirmed.  'We're doing a residency at The Hydey and then we're supporting Loose Lips at The Norfolk soon too plus a bunch of shows at Mojos. At the moment we're playing gigs until we raise enough money to make a record.
'The idea is to record a record, slowly but surely. We've had our first session in the studio and that's gone really well.'
The sound will be all original tracks brushed with the girls big rock sound. And if the live shows are anything to go by, the forthcoming album will be explosive and gutsy: a real tour de force of what girls with guitars can really do.
'There's been quite a buzz as well, so soon after we've started playing,' added Ripepi, who recently was given the all clear after being diagnosed with ovarian cancer last year.
'There's a real buzz from the people who have seen us and from the people in the industry. And people have said that just to see three strong females up front is quite new for Perth.'
'We feel very excited about this project,' concluded Axe, 'and it feels very good for people to come in at this level because of the intimacy and because of the atmosphere.'
Axe Girl are currently playing a residency at Hyde Park Hotel every Thursday night with Addison Axe playing a solo show at Mojos on June 2 before being joined by Axe Girl for an appearance at The Norfolk Basement on June 15. Axe Girl will also appear at Mojos on July 12, 19 and 26. www.axegirl.com
Scott Patrick Mitchell