Get ready to sink your teeth into West Australian Ballet's 'Dracula'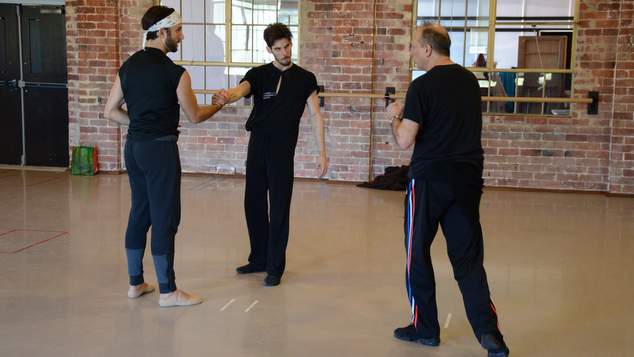 This month the West Australian Ballet debuts what is potentially the biggest premiere of the company's sixty six year history.
They've commissioned acclaimed Polish choreographer Krzysztof Pastor to create an entire new ballet based on Bram Stoker's Gothic novel Dracula.
We were lucky enough to be invited to watch some rehearsals of the new work and watched the dancers performing a scene where English solicitor Jonathan Harker first arrives at the castle of Count Dracula.

The company run through the scene, it's a provocative work and there's an undeniable underlying sexual element, the choreography is a mix of classical and contemporary dance. Pastor's choreography is bold and dramatic. Dracula's giant cape swoops across the rehearsal floor, dancers are entwined around each other, as the choreographer looks on.
He gets the dancers to repeat a part which is not quite working yet, they run through it several times with minor changes.      
Soloist Oscar Valdés is one of the dancers playing the role of Harker in the new work which can be described as lush, romantic and sensual.    
"It's not a big classical ballet, it's something new, this is going to a world premiere and it's really interesting. I'm really looking forward to it because we have all these combinations of styles, it's not just classical and it's not all contemporary, it's everything together." Valdés told us during a break from rehearsals.    
"It's really interesting," he said of choreographer Pastor's process, "He really focuses on the history and it's amazing to do this kind of production, because it's not just the steps, you have to act and you have to give life to Dracula and all these characters in the ballet."
Valdés said the production is a sign of how much the West Australian Ballet is growing. "This company, it's not an old company and we're a long way from all the other ballet companies, but being here and having the opportunity to work this choreographer is one of the best things to happen both the company and even for me in my career."
The dancer said he found it quite a shock when he arrived in Perth to take up his role as a soloist at the ballet company. "I'd been in Holland for three years before I came here, but I'm Cuban and I love the good weather and I love the sun! When you first arrive you have to adapt to a new life, and new people, but I felt so welcome when I arrived here."
Valdés is just one of the dancers who make up the very multicultural company his colleagues are from many different nations including France, Japan, Italy and The Philippines. For this production the choreographer is from Poland and the sret and costume designers are from Britain. Collectively their delivering world class artistry.   
Alongside the sensual choreography and bold storytelling, the production has also involved the creation of stunningly beautiful costumes that have been made from scratch and a jaw dropping set that will transform the stage at His Majesty's Theatre into the world of Dracula.
Dracula opens at His Majesty's Theatre on Thursday 6th September. Tickets are available from waballet.com.au
Graeme Watson, image Mathew Lehmann, Oscar Valdés and Krzysztof Pastor rehearing Dracula. 
---