Betroffenheit is a visual feast packed with angst and agony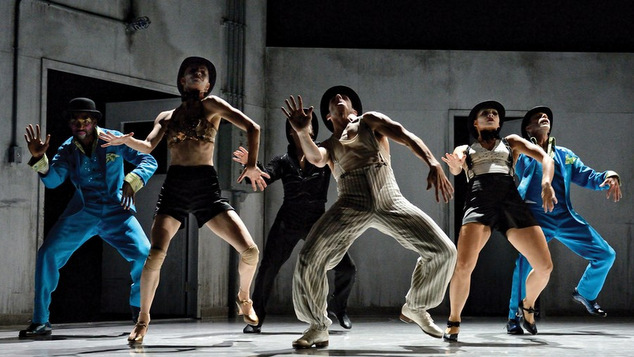 Betroffenheit | PIAF State Theatre Centre | Until Feb 26 | ★ ★ ★ ★ ★
Reading about the genesis of Crystal Pite and Jonathon Young's Betroffenheit could make you wary of attending a work that features some very heavy themes, but it's a visually immersive work that combines elaborate sound design, brilliant lighting, meticulous choreography and great performances.
In 2009 Young's fourteen year-old daughter died in a cabin fire alongside her two cousins. Years later Young drew on this horrific experience to create Betroffenheit. The German word means shock, bewilderment, or impact.
Working with choreographer Chrystal Pite, Young explores the experience of suffering. It's a space that is filled not by a distinctive single emotion, but a wild entanglement of feelings that clash or combine. At times the work is like a feedback loop, multiplying the levels of emotion, creating waves of crescendo.
The work has two distinctive halves, split by an intermission. In the first half the curtain rises to reveal an urban industrial landscape. The stage is littered with tangled cables that unexpectedly start to move, snaking off the stage and disappearing. A change in the lighting reveals a man curled up in a corner.
As he begins to explore the world around him and interact with the other people we're treated to a performance that melds moments of comedy and cabaret. A looping narration conveys the never-ending self accusation that plays in the central characters head.
This vivid theatrical presentation cleverly captures the mania and depths of despair that substance abuse creates, and a roller-coaster ride through fluctuating mental health.
The second half is distinctly different. The stage is vast and empty, smoke fills the space. The dancers deliver tight syncopated choreography, their movement is twisted and repetitive. Their five bodies battle against each other, struggling to find the right direction to head in.
The lighting created for for this show by Tom Visser is outstanding. It creates drama and emotion by a series of quick changes that see the almost empty stage radically transformed.
Betroffenheit is filled with traumatic emotion, a devastatingly raw, but rich, theatrical experience.
Book tickets via the Perth International Arts Festival.
Graeme Watson, image: Michael Slobodian