Binary launches anti-trans kit and sends it to 500 schools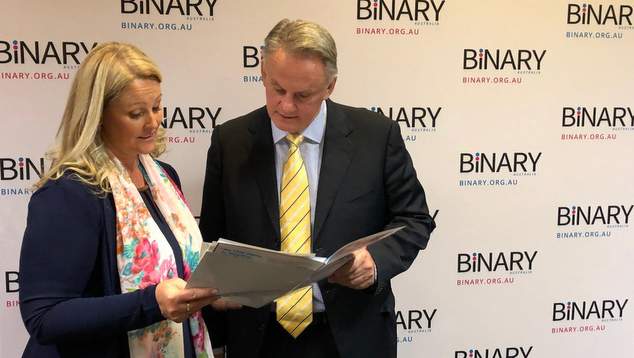 Anti-transgender group Binary have launched a tool kit for parents which they say is needed to protect schools from gender fluidity. Binary leader Kirralie Smith says the kit will be available across Australia.
The project was launched at New South Wales Parliament House by One Nation's NSW leader Mark Latham and has the backing of NSW minister for Small Business and Finance Damian Tudehope.
Tudehope was reportedly unable to attend the launch when he was called away on parliamentary business, but he is backing the kit.
The Sydney Morning Herald reported that several MPs were able to attend yesterday's launch including  NSW Corrective Services MP Anthony Roberts, Mulgoa MP Tanya Davies and upper house MLC Matthew Mason-Cox.
Mark Latham said One Nation were committed to stopping people self identifying as transgender.
"This problem is increasingly common in NSW schools, urged on by left-wing political activists," Latham said.
"Schools made a big mistake when they stopped being places of learning and ventured into the world of mental health assessment and radical gender theory."
Anti Marriage equality group The Marriage Alliance rebranded as Binary last year. Former leader Sophie York stepped down and was replaced was Kirralie Smith, both York and Smith were candidates for Cory Bernardi's Australian Conservatives.
Smith appeared on Vision Christian Radio to promote the new resource. Neil Johnson the host of 20Twenty program said children were being "targeted by often militant LGBT activists".
"A lot of parents are feeling that their parental right and responsibilities are being challenged at every turn. Schools have become this radical hotbed of indoctoration. Instead of schools being a place of education they've become places of indoctoration where ideologies are promoted." Smith said.
Smith said the toolkit would allow parents to keep tabs on which educational resources schools were using and had a list of books that Binary did believe were appropriate for classrooms and libraries. Also included is a list of books and documentaries that the group believes students should be encouraged to engage with.
"We come at it from a very medical, scientific and ideological viewpoint when looking at what all the consequences are of going down this road of radical gender ideology."
Smith said parents need to be consulted about the development of policies on how transgender children are treated at school.
"When it comes to transgender student in school parents have every right to want to be engaged in the process of  what bathrooms and change rooms will the students use, when students go on school camps what accommodation will they use? When it comes to sporting activities – will girls be disadvantaged by biological males? What is the pronouns policy?" Smith asked.
Smith said many teachers were raising concern about material that was being introduced into schools and it was leading to many people being bullied into accepting things they did not agree with.
The info packs will be targeted at school P&C groups. New South Wales Education Minister Sarah Mitchell told the Sydney Morning Herald that these groups are the best place for concerns to be raised with school principals.
"P&Cs are and should be a dynamic and active part of local school communities. They are best placed to raise concerns with principals who, I believe, are generally closely connected with their student and parent cohorts." Mitchell said.
Graeme Watson, image Kirralie Smith and Mark Latham at the launch Binary Twitter  
---