Black Swan revives lost play 'The Torrents' with great success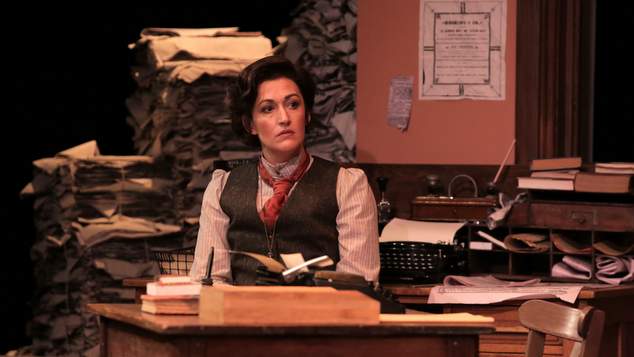 Black Swan State Theatre Company| Heath Ledger Theatre | Until 30 June | ★ ★ ★ ★ ½ 
In 1955 Oriel Gray's play The Torrents was the joint winner of the prestigious Playwright's Advisory Board Prize. The other play that was recognised, Ray Lawler's Summer of the Seventeenth Doll. 
Over sixty years ago Perth's Daily Mail newspaper proclaimed "Oriel Gray's name will take a prominent place in the history of Australian Theatre."
Except, it didn't. Lawler's play about women finding their voice in a time of change went on to become a staple of Australian theatre and Gray's work, which touches on similar themes, faded into obscurity.
Following their acclaimed production of Summer of the Seventeenth Doll in 2018, Black Swan now turns it attention to this overlooked work, and brings together a talented cast to bring it back to the stage.
The action takes places in the offices of the local newspaper of a Goldfields town in the 1800's. The editor, Irishman Rufus Torrent (Tony Cogin) is excited about the arrival of his newly hired journalist J.G. Milford. He's joined by his son Ben (Gareth Davies), and staff, yarn spinning Christy (Geoff Kelso), taskmaster Jock McDonald (Sam Longley) and cadet Bernie (Rob Johnson).
Passing through the office is energetic visionary Kingley (Luke Carroll) , who has some ideas of how the town could move on after the gold rush, Ben's finance Gywnne (Emily Rose Brennan), and the newspaper's investor – businessman John Manson (Steve Rodgers).
Amongst the hustle and bustle and comings and goings it becomes clear that the impending arrival of the new writer is going to challenge their expectations and presumptions. As comic star Celia Pacquola makes her entrance, the other characters point out to her that she is indeed – a woman.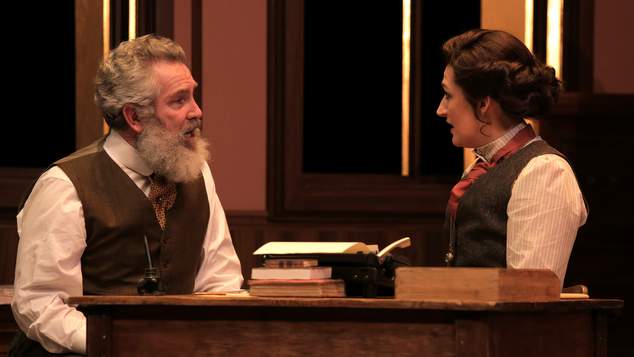 Women forging their way in the workplace, and a presumption of gender roles is not all this play is about though, over a comical hour and a bit, it touches on politicians have bold visions, media ownership and influence and many other themes that are eerily relevant today.
Pacquola delivers a wonderful, nuanced, performance, and while she is the central character, it's not a starring role. The play is very much an ensemble work allowing each performer their moment in the spotlight.
There are some wonderfully comedic moments from Sam Longley, who boasts a Scottish accent that channels Fulton Makay. Gareth Davies conveys a wide range of emotions as the sheepish, sometimes roguish son Ben, and Tony Cogin is adorable as the newspaper's editor and leader.
The set and costumes from Renée Mulder are glorious, filled with a level of detail that transports the audience so effectively to a Goldfields town you can see the dust clouds from the road outside.
Hopefully this production , which is a co-production with the Sydney Theatre Company, will be the start of Oriel Gray's work being performed regularly because even decades after it was first performed The Torrents is a play of our times.
Graeme Watson 
---