Budget includes $160 million for mariage plebiscite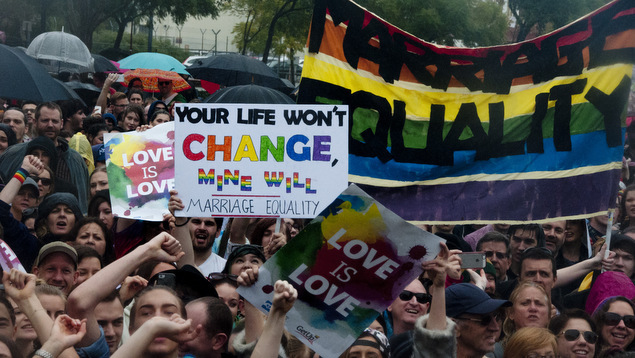 This week's federal budget includes $160 million to hold a plebiscite on marriage equality. The additional poll would be held within the next twelve months.
The Australian Electoral Commission had previously indicated the cost of the stand alone vote would be $158 million dollars.
Senator Robert Simms from The Greens has described the Coalitions decision to proceed with the expensive process as "absurd".
"It's absurd that after harping on for years about a so-called budget emergency the Liberals are progressing with a $160 million plebiscite on marriage equality," Senator Simms said.
"Now for the first time we are seeing this costly plebiscite factored into the budget. Australians want marriage equality and they want to see this matter dealt with by the parliament.
"Mr Turnbull could easily inject $160 million back into the budget bottom line by dropping the plebiscite and allowing his members a free vote in the parliament. Public money should not be used to facilitate a hate campaign against the LGBTI community."
Rodney Croome, National Director of Australian Marriage Equality said the government's decision to commit to the plebiscite would be better spent on essential services.
"Fairness and equality for all Australian shouldn't cost a cent," Croome said.
"The Budget has confirmed just how costly a plebiscite will be, and how wasteful given Parliament could pass marriage equality tomorrow."
"Corporate, political and religious leaders, and mental health experts, have all raised concerns about a plebiscite."
"We call on the Government to drop its plan for an expensive and unnecessary plebiscite and spend this money on essential services instead."
The Coalition has promised to hold a plebiscite to ask all Australians if LGBTI people should be allowed to access marriage. The non-binding poll would take place sometime within the next twelve months.
The Labor party has vowed to bring forward legislation and deal with the issue within 100 days if a Shorten Labor government is elected.

AME promises to make marriage equality a major election issue
"Regardless of who wins the next election we need to build support in the community and parliament, and in the lead up to the next election." Australian Marriage Equality National Director Rodney Croome said.
"In our largest election campaign ever, AME will be running campaigns in more than 30 seats across Australia to win over candidates and communities."
"If the Coalition remains committed to a plebiscite and is returned to government we will run a 'yes' campaign that unites Australians behind a reform that reflects our nations' values of fairness and equality," Mr Croome said.
Graeme Watson
---