Check out a heap of queer comics with 'OUT on Stage'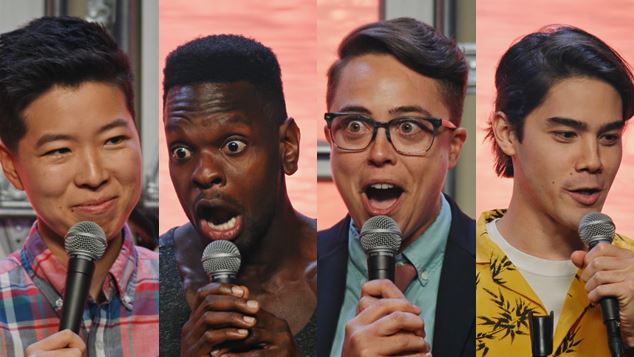 Is it okay to make jokes about the gay, lesbian and transgender communities? Well if do it's probably best if you're part of the community you're sending up.
OUT on Stage, a new series airing on Dekkoo, lines up some of America's best queer comics for a new stand-up series. Hosted by Zach Noe Towers, the six episode series features 18 hilarious comics who deliver cutting observations on modern life.
The comedians share their thoughts on everything from the sounds straight guys make, how doing laundry at a laundromat gives you better sex skills, tackling conversion therapy and gays who don't look gay.
Host Zach Noe Towers said he was thrilled to bringing together a whole group of queer comedians for the show.
"OUT on Stage has been a real passion project for me," Noe Towers said. "What an incredible experience it's been to bring together such a gorgeously funny group of queer comedians. Each and every person featured in the content has such a unique perspective and I'm thrilled that we're being given a platform for those hilarious voices to be heard."
"I don't think comedy is an easy field for anyone, but it can sometimes be especially difficult for those of us with unique, diverse voices. We're a much smaller percentage of the population, stage time can be harder to come by, and often times audiences aren't as willing to give us a chance. Even our peers can present a challenge.
"Open mics are often peppered with the voices of less progressive people, some of which find humor in homo/transphobic material. I would even be willing to bet that every queer comic out there has had to sit and listen to someone turn their life into a punchline. And this is why projects like OUT on Stage are so important. It not only provides a platform for new queer voices on the rise, but it brings us together. It creates a space for diverse voices to flourish and it's so important to have this kind of representation available." Noe Towers said.
Log on to online streaming service Dekkoo to check out the jokes from Zach Noe Towers, Jonathan Rowell, Brendan Scannell, Casey Ley, Julian Michael, Irene Tu, Jared Goldstein, Raneir Pollard, Kyle Shire, Jordan Pease, Chris Bryant, Eric Hahn, Daniel Webb, Joe Dosch, Gloria Bigelow, Anthony Desamito, Janine Brito and A.B. Cassidy.
Dekkoo (pronounced "DECK-koo") is the premiere subscription-based streaming service dedicated to gay men, providing the largest streaming collection of gay-centric entertainment available, boasting a larger selection than Here TV, Netflix or Amazon.
Dekkoo is available internationally via iTunes, Google Play, AppleTV and Roku. In the U.S. and U.K., Dekkoo is also available via the Amazon Dekkoo Channel. Dekkoo original series include "Feral," "Love is Blind" and "I'm Fine."
OIP Staff