Cougar Morrison is disgraceful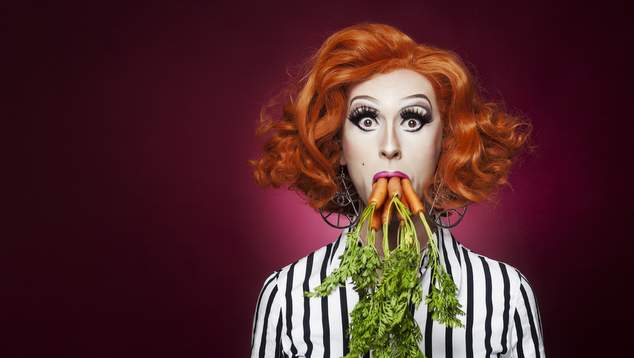 Local diva Cougar Morrison has not one, but two, Fringe World shows this year. First up he's exploring masculinity with Tres Masc? then teaming up with Disgrace Kelly for Disgraceful Cougars.
For those you've never met, who is Cougar Morrison?
Cougar is the the androgynous-adonis who can down a cheese-sausage with more ferocity than a jalapeno enema. A sexy mofo with "serious pipes" and a hankering for hairflicks, this gender-bender chanteuse delights his crowds with hilarious tales from his life, whilst barely clothed and busting out some serious tunes from his gob. A classy bish from Midland, Cougar will either delight you or cut you with a spoon.
What goals did you set yourself with this year's Cougar Morrison shows, what did you want to achieve?
This year I've raised the bar SOOO much higher for myself because I want to show the community and Perth that I am here, and that I love what I do. For both shows I want to make the audience laugh non-stop, making my shows a giant celebration, as opposed to my previous shows which were more reflective.
What is the butch-est thing you've ever done?
You definitely won't believe me when I tell you, but I used to work as a Bricklayer's labourer. In 37 degree heat, making cement mixes and shovelling sand. I fucking haaaaaated it. and I earnt $25 a day. I got to wear hard-yakka shorts and have a pie at lunch, so wasn't all bad.
"All the gays are macho, can't see their leather shine". Joe Jackson posed the question about Who are the real men are' back in 1982, why do you think we're still struggling with ideas of masculinity and gender?
I think power plays a huge part in this. We all want to be powerful to a degree. Some people want to have power over others while some just want the power to feel confident in themselves. And the world is shaped where we interpret masculine (both attitude and image) as powerful and secure. Which is utter nonsense. It's shaming femininity and suggesting that feminine people are weak. As a person on the feminine spectrum I know this is fake news.
How many carrots can you fit in your mouth, are they really small carrots or….?
I can fit about 7 carrots in my mouth. Yes, I tested it. It all started when I got very drunk at my brother-in-law's bucks party, and when I stuck my fingers down my throat to vomit, nothing happened. I wiggled them and still nothing, and I remember just thinking to myself, "Oh my god you are SO gay Clint!"
Since making your Fringe World debut a few years ago, you've branched out from cabaret into the world of regular drag appearances, what has drag taught you?
Drag has taught/forced me to use my whole body and to connect much more with my audience. And it's definitely made me a better host too- watching Barbie, Scarlet, Alexas and Fem dropping wicked banter is just as much fun to me as the actual shows. I'm a MUCH better performer because of drag. absolutely.
Last year OUTinPerth gave your show a 5 star review, do you feel more pressure to deliver after getting hugely positive reviews?
Holy shit balls yes I feel the pressure. Just quietly shitting myself here haha. I am doing something different for Cougar and I want the returning audience and reviewers to have the time of their lives. if I do my job right, their faces will hurt from laughing, and my face will have sweated my eyebrows off.
What is the most disgraceful bad habit you have?
Oooh…hmm. You mean besides deepthroating a cheese-sausage on James St? Well in that case it would be whistling- it sounds worse than Bjork singing. Legit my mum runs away with her hands over her ears when I whistle.
Find out more about Disgraceful Cougars: Bound and Gagged and Tres Masc? at Fringe World.
Graeme Watson
---
Support OUTinPerth
Thanks for reading OUTinPerth. We can only create LGBTIQA+ focused media with your help.
If you can help support our work, please consider assisting us through a one-off contribution to our GoFundMe campaign, or a regular contribution through our Patreon appeal.