Is the death of the Beaufort Street Festival a good thing?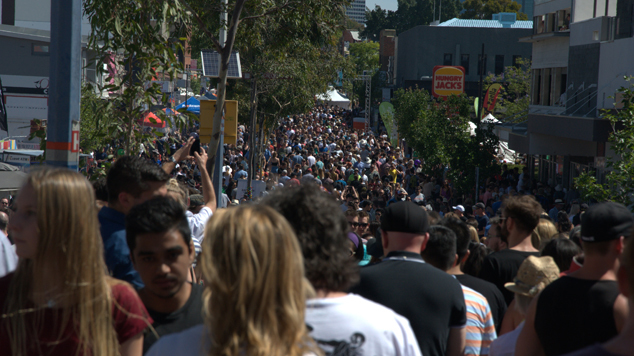 Beaufort Street Festival just announced the cancellation of the festival. I can already hear people screaming about how their favourite day of the year to walk the streets and get drunk in the sunshine has been taken away from them.
In fairness, that's also one of the main reasons I love Beaufort Street Festival. When else do you get an excuse to get together with everyone you know, sit in the sunshine, explore shops, eat food and drink away the day?
I know that events such as Beaufort Street give you something so much more than that. The sheer amount of people that descend on the street make you feel surrounded by a community, whether you're usually a part of it or not. If, like me, you love being surrounded by crowds, the BSF is probably one of your favourite days on the calendar.
One of the things that I love about the festival is that it doesn't take away anything from its community. It encourages every business in the area to get involved. While there are costs associated with licencing, infrastructure, stock and staff, the whole premise of the event is to engage people with Beaufort Street and it does that.
Sadly, 2015 was a little quieter than previous years, although this can be attributed solely to 38+ temperatures. When given the opportunity to spend time in a pool, or under your air-con, or sitting in your freezer, rather than wading up and down a street with 150,000 other people, it is understandable that some people decided to avoid the event. That being said, even with the reduced numbers in 2015, the event was a huge success and I am sad to see it go.
That being said, Beaufort Street Festival does something that not many other events manage to achieve. They make sure I don't have to choose. As someone who holds Mount Lawley in a special place in their heart, I always want to support the area. The opportunity to celebrate my community, watch live music, see old friends, try new foods, go shopping and do this all while still supporting all of my favourite venues and local businesses is worth its weight in gold.
In light of the starkly negative effect Fringe World had on venues, especially across Mount Lawley, I am proud to support an event that that focus on the community they reside in.
In fairness, Fringe World is a whole different ball park. In 2014, Fringe World estimated that the total gross visitor spend across the festival was $26,852,728. An event that size is never going to be able to make everyone happy. Not every artists, or patron, not every businesses, and definitely not every local resident.
But that is exactly what the Beaufort Street Network was about. It was about engaging everyone in their community, making it shine, in making people even more proud to be a part of it.
Looking at the first event that the Beaufort Street Network has announced as part of its new events program, a Pizza and Croquet Community Event on April 10, the one thing that has stayed is the undeniable focus on community.
They are using local businesses, providing you something different and doing it walking distance from many a backyard.
The Beaufort Street Network has done something great by abolishing BSF. They have successfully created one of the biggest street festivals in Australia, and now they can bring that back into a grassroots space.
We are so lucky to have people like the Network thinking about us, what we want and what we need and we should be supporting that. Outside of the network there are a host of events that need much more support than they're getting… Yes, I am pointing a finger at every person who didn't go to Fairday because they were worried that it would be quiet.
We need to get behind our communities and support them, the way that businesses and organisations are supporting us.
This is about more than attending a party, or being seen at an event, or getting your picture in the social pages. It's about supporting the area that you live, it's about going to your favourite pub when another big event like Fringe World is on. It's about supporting the businesses that make your community what it is.
As summer winds down and so does Perth's apparent interest in attending events, I ask you to take the loss of Beaufort Street Festival as a positive.
See what else the Network has to offer. And go to is all. Check out the other local events like Secret Sounds, go back to your Sunday session bars, and keep your eyes peeled for what else is going on. Continue to engage with your community, because without you and me, there is no community.
Alice Mod