Discovering the life and music of Patsy Cline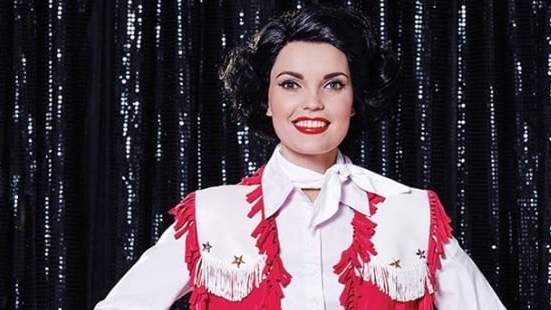 Kerrie Anne Greenland delivered a stand out performance when she last appeared on stage in Perth. As Éponine Thénardier in Les Miserables she made audiences hold their breath night after night as she sang On My Own.
The role in the big budget musical was the first part Greenland was cast in following her graduation from the West Australian Academy of Performing Arts and it saw her travel the world for several years as the musical toured Australia and then continued on through Asia.
Now she's back with a leading role in Always…Patsy Cline a show that explores the life and music of one of the groundbreaking artists of the twentieth century.
"Her music is so amazing, oh my goodness." Greenland says of the country music icon. "I didn't grow up listening to her, but now that I've listened to her it's so beautiful."
Greenland says the role of Cline is very challenging because not only is she playing a real  person and many people in the audience each night are huge fans of her music, but also she's never sung country music before.
"I'm a music theatre singer, so I've impersonated people before, I've done a Judy Garland show, and done a bit of Shirley Bassey, and Edith Piaf, Marilyn Monroe and Billie Holiday. I've done things before where as a vocal technician I've had to manipulate my voice to sound like someone else, I'm comfortable doing this but this role is so different." Greenald said.
In the 1950's Patsy Cline was a groundbreaking artist who crossed over into the pop charts. Before Olivia Newton John, K.D. Lang and Taylor Swift walked a similar path, Patsy Cline paved the way. Fifty five years after her untimely death the singers big hits including Crazy and Walking After Midnight are still well known.
In Always… Patsy Cline Greenland and Mandy Lodge convey the story of the singer's life with Greenland portraying Cline, and Lodge playing Louise Seeger – one of her biggest fans.
"Louise Seeger – she was a super fan, it's all based on a true story. The writer found these letters that Patsy Cline and Louise Seeger had written to each other. They were pen pals for years, so the play is made out of that material. It's phenomenal to see her journey too." Greenland said.
"Patsy Cline was knowing for spending hours talking to fans after shows, and she was pen pals with many of her fans, she so generous a woman. Louise takes us on this very funny and heartfelt series of experiences of Patsy Cline with all those songs we love."
Greenland says the idea of fans and stars writing letters is quite romantic and admits in today's world of social media and potential stalkers something has been lost.
Greenland is also amazed that Patsy Cline's memorable career occurred over a very short period of just a few years and was filled with many challenges.
The singer was involved in a serious car accident which left her with a long recovery and facial scars. After returning to performing Cline prefered to fly rather than drive to shows, and tragically was killed in a plane accident.
"She's produced a lot of work the short period of time that she was here, it's phenomenal, and then to have influenced so many performers in the decades that followed – it's amazing."
Always… Patsy Cline is at the Subiaco Theatre Centre for just one night on 14 November. 
Graeme Watson
---