'Don't listen to Folau' says the sign at Gosford Anglican Church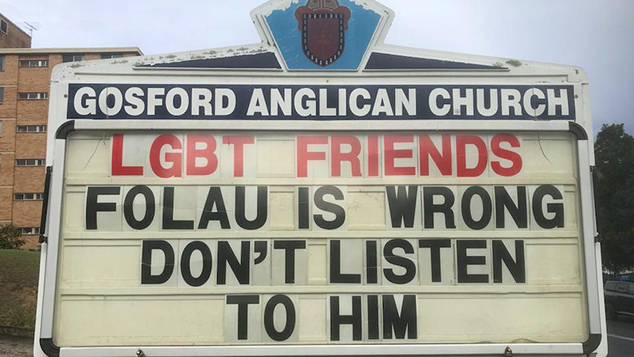 Gosford Anglican Church is famous for its politically charged and often humorous sign out the front of the church.
This week, Father Rod Bower had a message for LGBT Australians. Weighing into the debate over comments made by former Rugby player Israel Folau the church's message was simple – just don't listen to Folau's comments about gay and transgender youth.
"Israel Folau is the price we pay for free speech." Fr Rod Bower said on social media. "He has the right to say it and I have the responsibility to oppose what he says."

Footage of the former rugby player delivering a sermon arguing against acceptance of gay and transgender people was published to his church's website.
In the clip Folau argues that transgender children are the work of the devil.
OIP Staff