Faith and Freedom: Remembering George Michael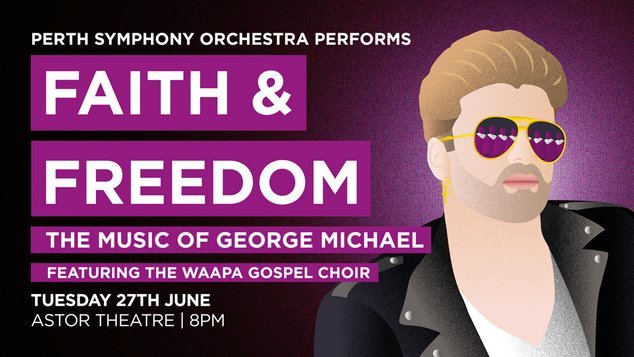 Perth Symphony Orchestra will be paying tribute to George Michael with a spectacular concert at The Astor Theatre on 27th June.
Perth leading composers and arrangers are working with the orchestra to re-imagine George's best songs so the audience will be taken on an emotional journey.
The show will include songs from both Wham! and George's acclaimed solo career. Everything from Careless Whisper, to Freedom and I'm Your Man.
The show will feature the talented WAAPA Gospel choir and will take place on June 27th. 
Five George Michael songs we adore
Freedom '90
The '90 was added so people didn't it get mixed up with the Wham! song Freedom. The ultimate declaration of artistic independence and one of the most memorable videos ever.
I Want Your Sex
So controversial when it first came out, the video was considered extremely risque. Check out the full version which has three parts and turns into a sultry jazz number. It can be found on the Faith album.
White Light
One of the last original songs George Michael released, a stunning club track that would have a dance floor pumping.
A Different Corner
This was George's second solo single after Careless Whisper (unless you're in the USA where it was his first solo tune, because Careless Whisper was released as a Wham! song.) It's an incredibly subtle but powerful song but wasn't included on George's debut album.
Faith
It's one of those tunes you know from it's opening note. The video starts with the Jukebox playing I Want Your Sex and then the opening organ play's the Wham! tune Freedom, then that iconic guitar begins.
The jukebox was later blown up in the Freedom '90 video, while his leather jacket was set on fire.
Perth Symphony Orchestra is a supporter of OUTinPerth.