Fighting Stereotypes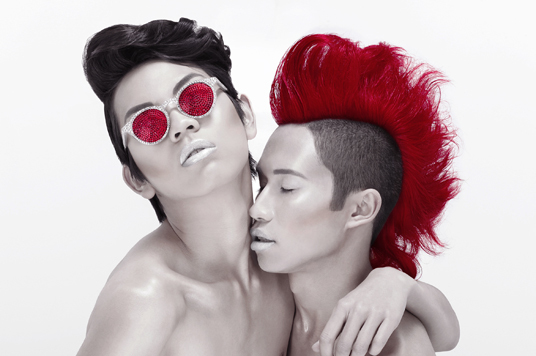 Fighting stereotypes of Asian people in Australia's GLBTI communities has been gaining awareness in the last twelve months. Last year NSW's health promotion organisation ACON produced a magazine highlighting the experiences of gay men.
When the magazine was launched Project Officer and Editor Min Fuh Teh explained the rationale behind the need for the publication. 'Being a minority within a minority is a significant experience for many Asian GLBT people and something, with which many often struggle.
'In some Asian communities, it can be hard to address something as taboo as the issue of sex – especially gay sex – but not talking about it encourages a sense of disempowerment, and that can lead to all kinds of issues in terms of sexual health.'
A lack of good role models for any ethnic group can have wide spread implications. It can lead to people feeling that they don't belong to part of the wider group.
When we ask cover girl Skye if it's harder being gay and Asian she laughs and responds 'I wouldn't know I've always been gay and I've always been Asian.'
For mohawked fellow model Mark, who has a Burmese and Irish ethnic background, his outlook is much the same. 'Because we've grown up here, we just become so Australian in our culture, I forget I'm Asian until I look in the mirror.
'You do get the occasional person who'll call you Ching Chong Chinaman, or Jackie Chan, the list goes on.'
Our third cover model Kelvin says such comments are not hurtful, 'They are just plain offensive.' he says.
The social networking site Grindr is often highlighted as a hot-spot for overt racism towards people of different nationalities. Mark finds it annoying when he sees profiles that state 'No Asians',
'But then I put it into a mind frame where I come to an understanding that they may not have been cultured and educated enough. A lot of guys say they don't find Asian men sexually attractive and I think that has a lot to do with society's construct of what a real man should look like.'
Mark argues that it's hard for Asian guys to meet that expectation of what a real man should look like. 'Ninety percent of the time it's a white guy who is masculine, Asian guys have a lot of feminine qualities.'
'There isn't as much exposure of Asian people in Australia as in other countries in South East Asia. Australia is a western dominated society.'
Accessing the level of discrimination that occurs on Grindr in Australia is something that Damien Riggs from the School of Social Sciences at Flinders University has looked into. In his study that was published in February this year Riggs found that a small proportion of profiles had anti Asian sentiment.
The study found four distinct ways in which anti-Asian sentiment was created online. The construction of racism as a personal preference, the construction that Asian men were not 'real' men, the construction that being Asian was a 'type' and the belief that adding an apology made any racism acceptable.
Jonathan, 22 (not pictured) sees things a different way, noting that he can be ignored equally by men of all different backgrounds. Jonathan thinks the real challenge is recognise different behaviours.
'I want to isolate the elements where Australians are just xenophobic, and those that are just not into me as a person.'
A recent trip overseas gave Jonathan a chance to test his beliefs about how he is perceived,
'I was in Hong Kong and on Manhunt. I got ignored by a lot of people too. In some ways it's a consolation that maybe Australians aren't so racist after all.
Image: Angelo Di-Benedetto
Graeme Watson