Amanda Canzurlo is in full Bloom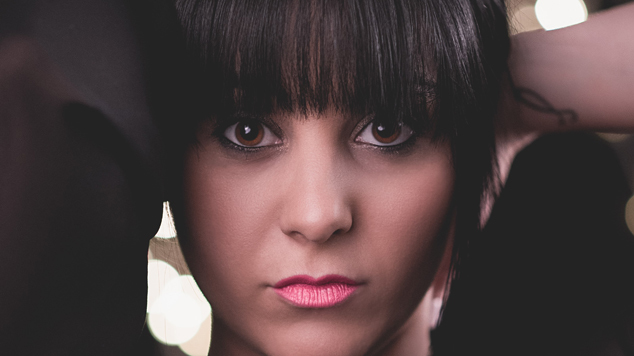 Singer Amanda Canzurlo, who performs as Bloom recently delivered a knock out showcase at The Ellington Jazz Club. Her debut EP is released this month and features a selection of adult contemporary pop.
You were so confident at your show at The Ellington, are you super confident or good at hiding nerves?
I am glad I came across confident, however yes I have learned how to channel my nerves into a more positive energy rather than something negative. I always feel pressure to put on a good show for people who have taken the time to come and watch, so I feel I have no choice but to be confident, even if deep down I am scared, I just try to not let my thoughts go there.
Tell me about being Bloom, as opposed to Amanda.
Bloom is my alter ego. I have been singing cover songs as 'Amanda' my whole life, professionally over the past 15 years or so, so when I was discovering who I wanted to be as an artist I found it easier to find my true sound and style by creating Bloom. I am still me, but I feel when I am on stage as Bloom I am more relaxed, deep and meaningful and the purest version of myself.
Last time you were in OUTinPerth was back in 2012, you're almost unrecognisable now, such a transformation!  How have you changed musically since that picture was taken?
WOW! Not my best angle! Ha ha, why was this photo ever published! It seems like a lifetime ago, I believe that gig was at The Court in celebration of All Things Queer on RTRFM's Birthday Bash! I had just returned from a collaboration in Italy where I met up with a DJ and we recorded and filmed in Florence.
That track was my first original called 'Never Let Me Go'. It was a Euro-Pop Dance track. Back then I didn't really have a clear vision of who I wanted to be as an artist, I was young and just having fun with the adventures of life. My music now I feel is more mature, has deeper messages and especially in the last year I have really developed this Bloom brand. I want to sing about issues we don't tend to talk about on the surface in the hope to connect with people when they feel their most vulnerable so they don't feel alone.
How long has it taken to make this EP – where did it start?
Rob Agostini and I started writing around July 2014, so over a year to get to this point, I was studying full time at WAAPA at the time and I knew I wanted to write, but I wanted to write with a new producer, previously I was writing with my producer in LA, over Skype – it's great, it just slows down the process. I had heard great things about Rob and his studio Soundbaker so I thought I would try write with him to see if we were on the same track, we were and this is the EP we created together. Self funding slows down the process but I am really happy with the end result.
Are all your songs about personal experiences? Where do you find inspiration for your songs?
They are about personal experiences, one way or another the topics I sing about have either affected me directly or indirectly – I empathise with people going through heartbreak or loss, we have all been through it at one stage or another. The inspiration just comes on its own! Just today I was driving some new lyrics came to mind, if you become more aware of your surroundings there is a song in everything I think, I definitely find it easier to write sad songs – I haven't written a happy song yet, that isn't to say I am not happy deep down – I love my life, I suppose at this stage of my career I am trying to just go with the flow when it comes to the creativity and write what comes naturally.
What's next after this EP?
EP will drop online December 10, I will be playing at Disconnect Festival on December 11th and then I will be heading over to Melbourne in February and we have some shows lined up over there! Back into the writing now and hopefully 2016 will be a year full of travel and getting the EP out to as many people as possible!
Graeme Watson