Fun at the Bookclub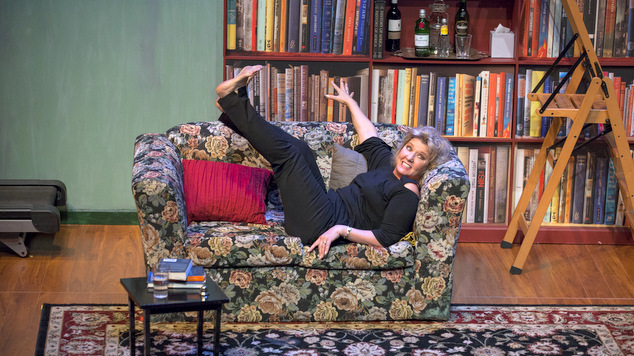 Amanda Muggleton took the stage for the opening night of her one woman play 'The Book Club' with her foot in a cast, undeterred the comic actress used her recent injury to full effect, getting extra laughs from the crowd.
A one woman show is familiar territory to Muggleton, she made her name portraying the title character in Willy Russell's 'Shirley Valentine' and has become a regular visitor to Perth over the last twenty years in a variety of productions.
When Muggleton appears it's a little like catching up with a friend you haven't seen for ages, and the lively actress makes the most of her familiarity with the audience often dropping out of character to make additional comments to the audience, when a line gets a bigger than expected laugh or an audience member's phone went off.
Muggleton's performed Roger Hall's play 'The Book Club' before, but now under the eye of director Rodney Fisher the story has been updated for 2013 with the literary references of today incorporated into the story.

It's the tale of Deborah, the wife of a lawyer and mother to two grown daughters. Each month Deborah heads off to her local Book Club, a gathering that's filled with an assortment of different women. There's the very Aussie Trish, the haughty Meredith, the young and pregnant Caroline, the sultry European Steffi and the recently widowed Jenny and her sister in law Sophia.
Things take a turn when it's Deborah's turn to host the monthly shindig and she invites the author of a book to come and meet the rest of the club. The arrival of writer Michael Gordon turns Deborah's world on its head.
The beauty of this play is that Muggleton plays all the characters, flipping between genders, accents and body movements at a great rate. It takes a pretty amazing actress to successfully deliver a performance of this kind.
The production is not without its faults though, it's excessively long and there are a few points you feel like you're stuck at a dinner party where someone is telling an exceedingly long anecdote. Not having seen the original production, I began to wonder how much additional material has been added to this new version.
You don't need to be into books to get this play. The books it references are well embedded into the zeitgeist. The majority of the audience were clearly the very ladies that Muggleton was making jest of, but there is something in this play for everyone as it touches on a wide variety of themes.
The Book Club is playing in Bruce Rock, Mandurah, Kalamunda and Thornlie in coming weeks, details below.
PERTH, Subiaco Arts Centre
Thu 6 June 2013 – Sat 8 June 2013
BRUCE ROCK, Bruce Rock Shire Hall
Wednesday 12 June 2013
PH: 08 9061 1687
MANDURAH, Mandurah Performing Arts Centre
Saturday 15 June 2013 @ 8PM
KALAMUNDA, Kalamunda Performing Arts Centre
Tuesday 18 June 2013 @ 8PM
THORNLIE, Don Russell PAC
Thursday 20 June 2013
Graeme Watson