Review | Gavin Lind is endearingly offensive in Mediocre as F*ck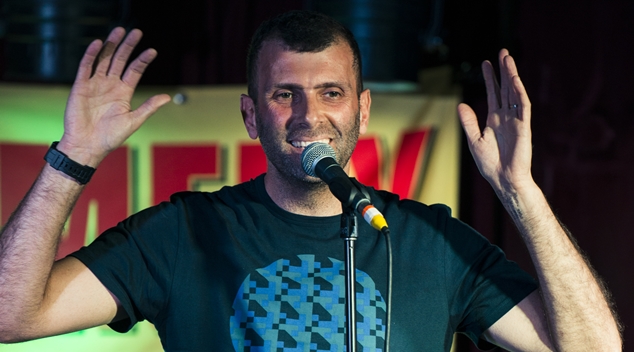 Mediocre as F*ck | The Palace Society | til Feb 11th | ★ ★ ★ ★
Trigger warning: This show discusses veganism.
Stereotypes are funny.
Gavin Lind is a man who knows his stereotypes well, and his particular brand of equal opportunity sledging is delivered with razor sharp precision.
But this show isn't just about taking the piss out of the queer alphabet, exposing the hidden logic in adoption, or shedding light on the right to divorce.
There are moments in Gavin's show that take a surprising left turn and make you think "aww that's nice", in the part of your brain that is usually closed for business when you are determined to extract your necessary dose of cynical lols at fringe comedy shows because everything is just the worst. So let's at least have a laugh at it.
Look, it's not quite American Beauty 'plastic bag in the wind' shit, but maybe more like a poignant philosophical optimism delivered Inception-style and sliced somewhere between the cultural appropriation of anal bleaching and finding creative ways to prevent your husband from trying to fuck you.
Gavin's show will make you feel like you're not special, no one else is either, and that's OK.
This morning I found a balled up napkin in the crusty pocket of my blazer with the words "endearingly offensive" written in sharpie.
And that pretty much sums it up for me. There is a level of thoughtfulness in Gavin's shock value and it feels unique and refreshing to watch. The great crescendo is probably that there is none, which I guess is written into the tittle. But there is nothing mediocre about Gavin Lind's style and this show.
Whether you identify as having a blood type of glitter, or whether you secretly hide the fact that you don't know what the majority of letters in LGBTQIA+ mean, this show will make you laugh. If your own crippling mediocrity (and web of deceit that you weave to make yourself appear special) keeps you awake at night, then this show is for you.
Actually, I've changed my mind, the show does have a crescendo. Mediocre as Fuck is a laugh at everyone else's expense, until you realise that the butt of the joke, is actually you.
Full disclosure here, I've never reviewed anything before. Initially, I thought it seemed like something I would be good at. This belief I held had zero factual basis except to say that perhaps I conned myself into thinking that I wasn't average for a moment. So in keeping with the theme of the show and the lessons learnt last night about myself, I wish to acknowledge that the author and this review is nothing special. As Oscar Wilde (should've) said, I have nothing to declare but my own mediocrity.
And honestly, it feels really good.
Gavin Lind is at The Palace Society until Sunday February 11th. Tickets and more information available from fringeworld.com.au
Katie Rose
---
Support OUTinPerth
Thanks for reading OUTinPerth. We can only create LGBTIQA+ focused media with your help.
If you can help support our work, please consider assisting us through a one-off contribution to our GoFundMe campaign, or a regular contribution through our Patreon appeal.