Green's Launch 'We All Say I Do' Campaign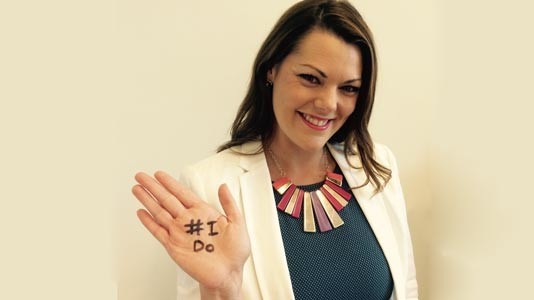 The Greens have launched a new campaign to support marriage equality ahead of the Sydney Gay and Lesbian Mardi Gras.
The new campaign encourages people to take photos of themselves with "# I Do" written on their palms to show support for marriage equality.
The photos are being collated on a Tumblr account.
"Gay and lesbian Australians should be able to say 'I Do', just like everybody else," the Greens' LGBTI spokesperson, Senator Sarah Hanson-Young said.

"There should be no place for discrimination in Australia.
Hanson Young said it was time for politicians in Canberra to catch up with what the Australia people wanted.
"The majority of Australians support marriage equality and have done so for some time. The politicians in Canberra just need to catch up.
"Tony Abbott has to allow all Coalition MPs a conscience vote on marriage equality. Only then will LGBTI Australians be equal when it comes to the right to marry."
Senator Hanson-Young gave notice yesterday that she will move a motion on the next sitting day of Parliament calling for a conscience vote on the issue of marriage equality.
WA Greens Senator Heads to Mardi Gras
Western Australian Greens Senator Lynn MacLaren is heading to Mardi Gras and will march with Australian Marriage Equality.
In a statement Ms MacLaren said AME is doing fabulous work in advocating for same-sex marriage equality Australia-wide and said it was the single most important issue facing the LGBTQI community.
"Excluding same-sex couples from marriage devalues the status of a loving relationship and can negatively impact on the mental health and wellbeing of gay and lesbian people," MacLaren said.
"Politicians at all levels continue to resist this crucial social change yet it has been shown time and again to have broad public support.
"There is some hope, with Senator David Leyonhjelm's introduction of a federal Marriage Equality bill, to continue pushing for reform federally.
"It's time for Tony Abbott to allow a conscience vote on equality; if that happens, then there is a good chance of achieving Marriage Equality in Australia which is long overdue."
Ms MacLaren said she still had plans to push through her same-sex marriage equality bill in Western Australia, designed to resist a high court challenge, should the federal bill be unsuccessful.
"I am proud to be marching this weekend for a cause I know the majority of Australians support," she said.
"Unfortunately we are still lacking the necessary federal leadership on this issue but I am confident we will see positive change soon."
Ms MacLaren also said, in light of the upcoming New South Wales state election, she wanted to show her support for the NSW Greens and marriage equality in that state.
OIP Staff