Groundbreaking Anti-Discrimination Laws Passed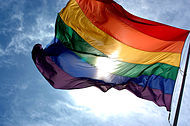 Yesterday saw the legislation of The Sex Discrimination (Sexual Orientation, Gender Identity and Intersex Status) Amendment Bill 2013. The bill closes a lot of loopholes regarding discrimination towards the Australian LGBTIQ community; part of its legislation has made it the first country in the world to protect the intersex community at a federal level.
The legislation ensures the following protections:
Specific intersex protections.
A national definition of 'Gender Identity' that covers any gaps between state definitions.
The term 'Sexual Preference' has been replaced by 'Sexual Orientation'.
Protections against discrimination based on sexual orientation by Federal Government.
Same sex de facto couples can no longer be discriminated against whilst receiving a good or a service.
Elderly LGBTIQ people can no longer be turned away from or treated unfairly by Aged Care facilities that are tax-funded.
Trans* man and the Director of Research and Public Affairs at the Inspire Foundation, Aram Hosie, emphasised how important the legislation was for different sectors of the community.
"Particularly as a trans* person it's very exciting. At a state level a lot of trans* people aren't protected, especially whilst they're transitioning", he said.
"The changes surrounding Aged Care are quite significant, I know people are sad that we couldn't remove all religious exemptions, but it's putting a crack in there, and leverage'.
Openly gay WA Liberal Senator Dean Smith discussed his struggle in juggling LGBTIQ discrimination and 'religious freedom',
"Debate on the bill provided the Senate with a rare moment to deliberate on the proper balance between protecting religious freedom on one hand, while at the same time combating the scourge of discrimination", he wrote in an opinion piece in 'The Guardian'.
In response to this, Hosie explained that although he is not opposed to religious freedom, Commonwealth funded organisations should not be allowed to discriminate.
"Commonwealth funding to deliver a service should come with certain criteria", he explained.
President of Organisation Intersex International Australia (OII), Gina Wilson, welcomed the legislation,
"The legislation comes after a strenuous and exhausting process of educating and lobbying. We acknowledge with great thanks all of those who helped, particularly our LGBT allies, who went to the trouble of understanding and including intersex in their own efforts to bring about this historic legislative change."
Nadine Walker