Homophobic posters from neo-Nazi group found in Townsville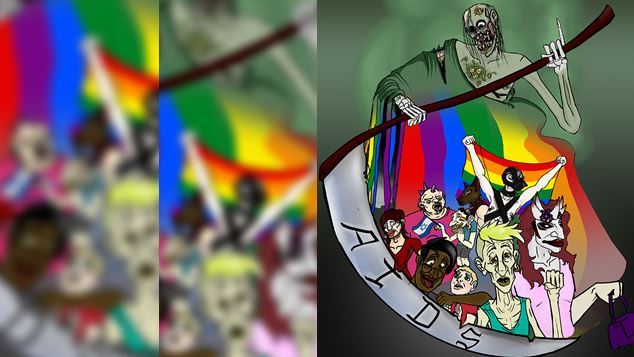 A series of homophobic posters created by a far right group have been found plastered around Townsville in Queensland.
The Townsville Bulletin has reported that the posters from neo-Nazi group Antipodean Resistance have been seen at several different locations.
One of the posters has the banner "They're Here, They're Queer" but not for much longer. The poster features a cartoon of the Grim Reaper with "AIDS" written on his scythe cutting down a variety of rainbow clad characters.
The Grim Reaper featured in an prominent HIV/AIDS campaign in the 1980's which was widely criticised for increasing stigma towards people living with HIV and the queer community. The character was reused by a Queensland HIV campaign in 2012.
A second poster juxtaposed an illustration of a mother and daughter alongside an image of two scantily dressed men, one who wear a leather harness. The poster has the caption "Life or Death: Families or Faggotry?" and also includes a swastika.
The group are a 'white power' organisation, their website states that they are opposed to "substance abuse, homosexuality, and all other rotten, irresponsible distractions laid before us by Jews and globalist elites."
Posters from the group have previous been found in Sydney and Melbourne. During the marriage postal survey their posted said there was a link between homosexuality and pedophilia. Earlier this year posters were found in Melbourne that described gay people as "walking disease".
Federal politician, and counter-terrorism expert, Dr Anne Aly has previously called for the group to be banned.
OIP Staff
---
Do you need some support?
If you are struggling with anxiety or depression, support and counselling are available from:
Lifeline: 13 11 14
Beyondblue: and www.beyondblue.org.au
QLife: and www.qlife.org.au
QLife are a counselling and referral service for Lesbian, Gay, Bisexual, Transgender and Intersex (LGBTI) people.
---