Il Divo's David Miller on how the group chose their 'Timeless' tunes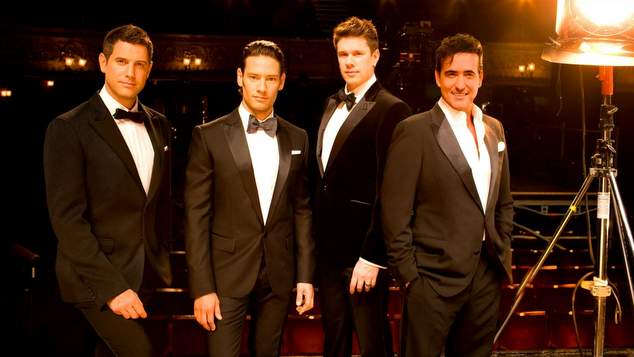 Operatic group Il Divo have just arrived in Australia for a quick promotional tour ahead of their concert tour in October. The four-piece have just released Timeless, the eighth album of their career, a collection of much loved songs from across the decades.
The band released their first album back in 2004 unleashing their mix of operatic pop, and they've gone on to become global favourites.
The combined talents of Frenchman Sébastien Izambard, Urs Toni Bühler from Switzerland, American David Miller and Spaniard Carlos Marín have delivered creative takes on well known tunes and forgotten classics. David Miller spoke to OUTinPerth about the process the band went through for their latest record.
"This was a fairly easy and straight forward process. This is the first album that we have self-produced, so we did not have any bureaucracy of record company, none of the minions of product handlers – none of that. It was really just down to the four of us." Miller said.
Miller said the foursome decided to name the album Timeless because it's a word that kept coming up in their discussions with fans.
"We thought that's a good word, lets call it Timeless. Then we thought how do we make an album timeless, so we decided to select a few songs from each decade that there has been recorded music, that took us back to the 1930's.
"So we all went away and did some homework and each one of us put together a list of five or ten songs that we liked from each decade.  We all put our lists on the table and where there were common choices those were the songs we went with." Miller said.
Making the final track listing was everything from the Charlie Chaplin penned Smile to Elvis Presley's Love Me Tender, through to Richard Marx 80's ballad Right Here Waiting For You and John Legend's All of Me. 
Miller said the journey through the timeline revealed some intriguing insights on songwriting and how society has changed with each passing decade.
"It was really interesting to me, having come from a classical background and having studied at the conservatorium of music and having learned about music history you can see what is changing sociologically through the music.
'The 1930's were a period of great upheaval, The Great Depression, the 1940's you had World War II and the 1950's were a period of tremendous abundance – so all of those songs were much more romantic. In the 1960's it moves into the period of social upheaval with the social rights movement and then in the 70's and 80's .
Miller also notes that as you progress through the decades the use of acoustic instruments falls away and more songs involved synthesizers. He says that while Il Divo comes from a classical music background, they have no fear of including material that is much more electronic.
"It influences a songwriters mind then they're writing, they are no longer thinking about what the string section will be doing, or how a sixty member orchestra will tackle the piece." Miller said of modern songwriting.
Miller said even though the quartet takes on very modern songs like Hola, their Spanish take on Adele's Hello, they have to convert them to a full orchestra arrangement.
"Our four voices just over samples, we'd just blow the whole thing away!"
Miller said the band enjoys presenting songs in different languages because it provided something unexpected to the listener.
"I think one of the great secrets of our success is having music that transcends the boundaries of language barriers and cultural barriers of different countries." Miller said.
Singing in different language is part and parcel of being an opera singer and Miller says you can't really fake it – you have to go and learn the language.
"You can get by without technically speaking the language, but you're only going to get so far in being able to connect to the material, and the only way an audience is going to feel connected to what they're hearing is if you are connected as well." Miller said.
Throughout their career Il Divo have always had a strong following of fans from LGBTIQ+ communities, Miller says it's hard to say why this has occurred but he thinks there is something in the way the group approach misic without judgement.
"There's something in what we do musically, we have an inclusive environment that we create, there's nothing out of bounds in what we'll tackle musically… Give us the classics, give us pop music, we've taken instrumental classical pieces and written lyrics over the top, and we use all languages, I think this what lots of communities are looking for – a safe space to be who you are- we do that musically." Miller said.
Miller said the quartet were excited to be heading back to Perth and couldn't wait for their show in October.
Il Divo will play the Perth Arena on Tuesday 16th October, tickets available from Ticketek.
Graeme Watson
---