Introducing: Man On Man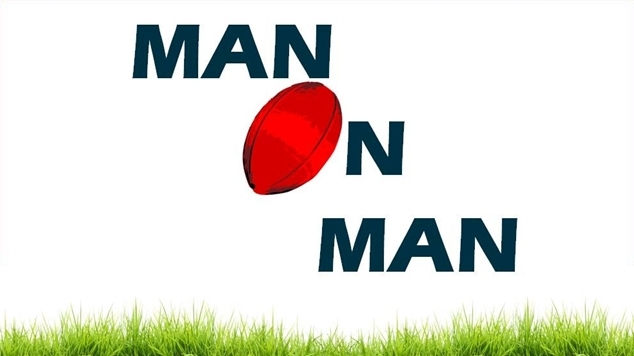 Welcome to 'Man On Man' – our weekly look into the world of Australian Rules Football. It's a queer take on the sport our nation obsesses over.
If you were always the last kid to be picked for the sports team and as a result know virtually nothing about Aussie Rules, then you're in good company – neither do we.
We've assembled a band of local identities to share their tips each week, each using their own ill-informed warped logic. to predict who will win each round.
Each week we'll be joined on the couch in the OUTinPerth office by some special guest tipsters who'll talk us through their choices, which we'll then broadcast online for your enjoyment.
Our tipsters include from the office Graeme Watson, Sophie Joske, Ryan Wright (RyWri) and Ryan Boldison (Ryan B), Court Hotel champions Bree, Neil, Gemma, Timbee and Hannah Conda. From Connections there's Andie Michelle, Matty Grose and Barbie Q. There's also local personalities Paul Van Leishout Hunt from RTRfm, the one and only Famous Sharon, photographer Claire Alexander, Fitness expert Sav from 'Workout Savvy', Wayne of 'Gay Aussie Selfies' fame and last but not least, Oskar Lim and his cat Mmrr (working as a team).
The competition has 23 rounds, and round one is split over two weeks with half the teams in the competition playing this week. Here are everyone's picks for the first few games:
MATCH ONE:
Collingwood VS Fremantle
PICKS
Freo is the favourite: 63% for Fremantle
Freo: RyWri, Sophie, RyanB, Jemma, AndieMichelle, PaulVLH, Wayne, Oscar and Murr, Claire Alexander and TimBee
Collingwood: Graeme, BarbiwQ, Sav, Neil, Bree, Hannah and Matty.
WHY?
Let's take a look a the logic behind the choices: Sophie's picked Fremantle purely for local patriotism
Andie Michelle has also tipped the Dockers because she's never been to Collingwood.
RyanB has picked Freo becasue he felt they were the underdog, but that's just their reputation – they actually won more games than Collingwood last year and were in the Grand Final.
Oskar and his cat Mmrr (pronounced Murr) have picked Fremantle.
Oskar read out the team's names and when he called out Fremantle, Murr stretched. Oskar said Mmrr seemed to be the type of cat who would suit the Fremantle lifestyle saying Mmrr is very chilled, most likely has left of centre politics and can rock thrift shop wears. Fremantle is their choice.
RyWri is also picking Freo because he once saw some Freo payers in a pub and remembers them being quite hot. Jemma ticked the box for Fremantle because she likes the Colour Purple.
 MATCH TWO:

GWS Giants VS Sydney Swans
PICKS
Almost all of our tippers have gone for Sydney, all except Sophie and Jemma who are supporting the Giants. There are eighteen teams in the competition, last year the Giants came 18th on the board, they played 22 games and lost 21 times…
WHY?
Jemma explains her thinking by saying that Giants are bigger than Swans.
Everyone else is going for the Sydney Swans, Oskar and Murr voted for the Swans because when Oskar called out the opposing teams name Murr just licked his butt.
RyWri picked the Swans because a boy once took him on a date to a Swans game.
MATCH THREE:
Gold Coast Suns VS Richmond
PICKS
Richmond is the clear favourite with 75% of tipsters going for the Tigers.
Going against the grain are Andie Michelle, Jemma, RyWri, Paul, and Oskar and Mmrr.
WHY
Andie Michelle is going for the Gold Coast Suns because they sound camp, Jemma has picked them because 'Who doesn't like a little sunshine?' and RyWri noted that boys from the Gold Coast are pretty.
On the other side of the fence Ryan B has picked Richmond because they're Tigers and that reminded him of Katy Perry.

MATCH FOUR:

Carlton VS Port Adelaide
PICKS
This is the game that has split out tipsters almost 50/50 with a slight preference to Carlton.
Carlton: RyWri, Sophie, Sav, BarbieQ, Neil, PVLH, Wayne, and Hannah
Port Adelaide: Graeme, RyanB, Jemma, Bree, Oskar and Murr, TimBee, Hannah Conda and Claire Alexander
WHY
Jemma is going for Adelaide because she doesn't like Carlton beer. Andie Michelle is going Adelaide because it's Port Adelaide and that reminded her of port wine jelly.
RyanB is picking Port because he figures there's not much to do in Adelaide so they've probably practiced quite hard. Oskar has joined him because he likes drinking Coopers beer and it comes from Adelaide.
RyWri, on the other hand, has tipped Carlton because his grandfather is a supporter.
Our tipsters have used a variety of logic to make their choices. DJ TimBee has picked everyone who is 'playing away' this week, but we're not reading anything into that. Oskar Lim has consulted widely with a feline companion and Hannah Conda told us that her breasts are psychic. Neil O'Connor from The Court Hotel has picked his teams based on how good looking each team is.
This made us think though, who is the cutest payer in the AFL? Send us your nominations to [email protected]
Tune in next week to our YouTube channel to see the first thrilling installment of 'Man on Man'!