Jack Reacher: Never Go Back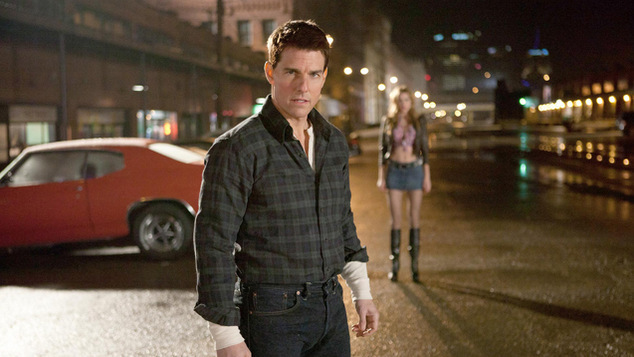 Jack Reacher: Never Go Back | Dir Edward Zwick |Released Oct 20 | ★★★
After missing for four years Jack Reacher is back in action again with the new movie, Jack Reacher: Never Go Back.
Tom Cruise returns as the titular character, who is an ex-military police major, alongside Cobie Smulders and Danika Yarosh.  The film is directed by Edward Zwick, who previously collaborated with Cruise on The Last Samurai.
The film follows the return of Jack Reacher, still on the run, who is set to meet Major Turner for a dinner date in Washington, DC, only to uncover diabolical schemes behind Turner's arrest and his past. Soon after, it followed the events with a discovery of a possible child laced with broken bones, bruises, and a pile of dead bodies after him, his child, and Major Turner.
The plot feels like the standard stock of action film clichés that is tiresome to the genre, but it offers a breath of fresh air with the hand-to-hand combat and stunts.
The settings seem to lack inspiration and creativity, and are all too common place for an action film. I see the film as an attempt to garner another franchise that Cruise to bank on, besides Mission Impossible with the merits of the success of the original movie.
It seemed like a standard Tom Cruise action film, but it allows its co-stars to shine on their own acting chops. Cobie Smulders and Danika Yarosh as Major Turner and Samantha Dayton -Reacher's possible daughter, respectively.
Cruise's acting seems to lack all the charisma he usually offers and brings in the violent, sociopathic and often disassociating persona that limits his acting limited to narrowing eyes and clenched jaws. The movie had some attempts to soften Jack Reacher as a character, but it does not fit the character due to his personality.
I was impressed with the characterisation of Samantha Dayton as she appeared to be a street-smart teenager, not a daughter who is a damsel in distress, though the delivery appeared to be flat at first few scenes.
I liked Major Turner's character because she was a lady who is tough as nails, an intelligent military woman who is ready for action. Smulders seems to enjoy the role and offer diversity in the roles that she is popular for.
I thoroughly enjoyed the combat scenes and was well choreographed and appropriate for the characters in the movie. It uses a unique hand-to-hand combat that is akin to the combat moves of Batman in Batman Begins that is just enthralling to watch. I especially enjoyed the final combat between Cruise and his enemy. The Halloween chase scene was interesting though I hoped it utilised the scenario.
It may seem to be a standard feat of a typical Tom Cruise action film, it was still enjoyable to watch. I was transfixed on the movie and enjoyed the chase sequences. I recommend watching it with friends on a Saturday night.
Mango Adonis