LGBTI rights campaigner Peter Tatchell released after Russian arrest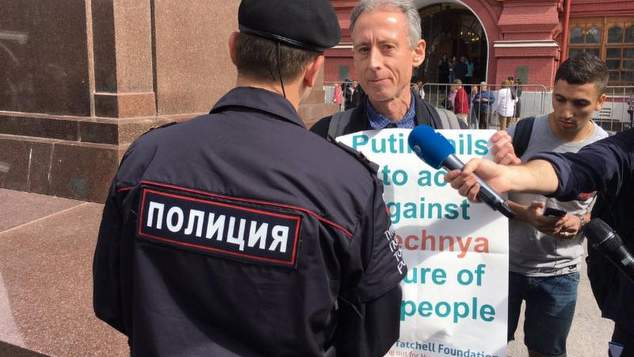 Human rights and LGBT+ campaigner Peter Tatchell has been released following his arrest during a peaceful protest close to the Kremlin.
The veteran British LGBTI rights activist was arrested by Russian police has he staged a solo protest against Russia's treatment of LGBTI people and failure to investigate reports of gay men being murdered by government forces in The Chechen Republic.
Tatchell received consular assistance during his detention and was released a short time after his arrest.
Speaking from Moscow, Tatchell said he had been treated well by police but he expects that might because he's British.
"I am required to appear in court on 26 June for violating Federal Law 54 and Presidential Decree 202, which prohibit all protests near the Kremlin and during the World Cup." Tatchell said after his release.
"I have written a letter to the Chief of Police of Kitay-Gorod police district, requesting that my court appearance is voided on the grounds that I am flying back to the UK on 18 June. I have been told I will be free to leave Russia on that date as planned.
"I spent one hour and 40 minutes in police custody, from the moment I was detained near the Kremlin to the moment of my release from the police station.
"Senior officers were stern but the apprehending officer very helpful, friendly and polite. I presume I was well treated, partly because I am a UK citizen and because a senior British Embassy consular official, Colin Wells, contacted the police. I guess the Russians also did not want to be seen as being heavy-handed during the World Cup."
Russia's record on LGBTI rights is in the spotlight as it prepares to host the soccer World Cup.
OIP Staff
---