On the Line: Joel Creasey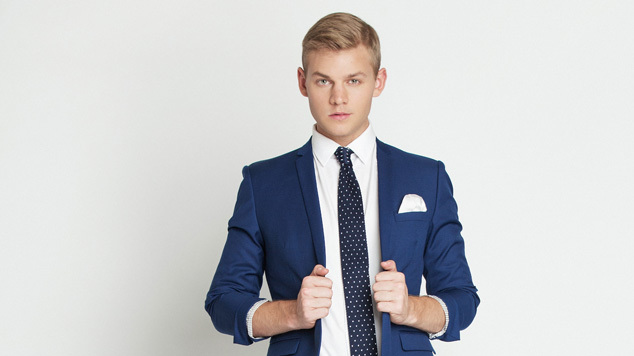 Joel Creasey is heading home for Fringe World to perform his brand new show. He chatted to Graeme Watson about searching for the perfect Caesar Salad, the benefits of having a stylist, and celebrity recognition.
Hi Joel, how are you doing? I'm great!
Do you know this is the seventh time you've chatted to OUTinPerth? We've interviewed you more than anyone else. I'm just obsessed with you guys, I can't get enough.
The runner up is Tina Arena, who has had five interviews, but we felt we should highlight that Tina has taken us to more cocktail parties. Well we are similar Tina and I, I'll take her down.
You did once buy me a beer at YaYas.
I'm such a tight-arse.
Tell me about your new show you're bringing to town?    It's going to be the world debut of the show, so it's a lot of pressure. It's called 'Hurricane' and it's all about the crazy times I've had over the last year.
I had a celebrity feud with two time Oscar winner Christoph Waltz, although he's not aware that he's in a celebrity feud with me. I took twenty German porn stars night clubbing, I accidently found myself on an American Military base by mistake.
I'm sure you fitted in just fine there. I was wearing camouflage pants, skinny legs – but I think I pulled it off.
You've been round the world in the last year though. I was doing my old show in London, that was great, I did a week and had a really great time there. Then I took my boyfriend on holiday with my family and then spent some time in New York and L.A. I've been all over the place.
I've never taken my boyfriend on holiday with my family, these worlds have been kept apart. There were moments when my parents were talking and I'd think 'Oh God, maybe I shouldn't have brought him', but he's pretty cool.
You're looking pretty slick in your promo photo.Thank you very much, there was a lot of air brushing.
You've got clothes on this time, that's a pretty nice suit. Last time you were naked. I do have clothes this time, I had just got back from LA and I was a little chubby. About 18 months ago when I started getting a lot of TV work I hired this guy, I mean I don't use him all the time, but he dressed me and gives me things to wear. He organizes my photo shoots, its makes a world of difference,
I don't know why more comedians don't do it.
Eating in America is quite an experience, you go into your first restaurant and suddenly understand what Oprah was on about when she talked about portion control. I know everything is huge in America!
I ordered a salad and it could have fed a family of six. Salads are strange in America, I tried to get a Caesar salad and it was just lettuce and sauce. I was like 'where is the chicken? Where is the egg? Where's the parmesan?" My boyfriend was confused by me wanting an egg.
I'm obsessed with finding the perfect Caesar salad, I've travelled the cafés of Perth looking for one, I even wrote an article about it. Where is the best Caesar salad in Perth?
I don't know, I haven't found it yet. I made my boyfriend a proper Caesar salad but he didn't understand it. In America they treat pumpkin as a sweet thing, I made a savory pumpkin salad one night for friends and they couldn't take it in, they still talk about it. It was my effort to give them some Australian culture.
Do you think you could live in America? I'm going to give a go later this year, I really do love America and
I think I unfairly give it hard time.
What do you miss about Australia when you're overseas?
I really miss getting occasionally recognised. There was a time we were in America trying to go to this gay bar and nobody was getting in, and I thought if I was in Australia I would have known the manager and been able to get in.
I have found vegemite in LA, so I have that there now, I think most of all I miss the coffee, you just can't find good coffee in America.
See Joel Creasey's show 'Hurricane' at Fringe World on January 23rd, 24th and January 25th.He will be returning in later in the year to perform at the Regal Theatre in Subiaco on April 24th. Tickets available from Ticketek.

Graeme Watson