Local band Mosquito Coast release debut EP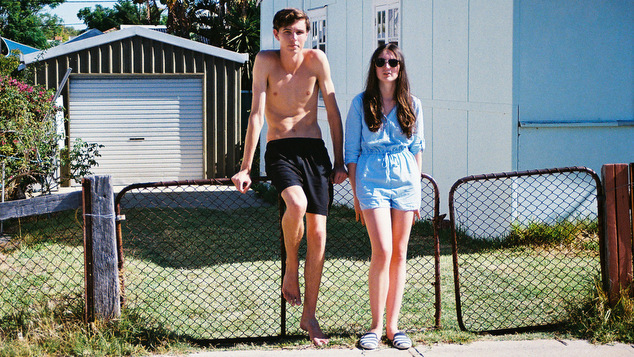 Local Perth musical duo Mosquito Coast have just finished their debut EP Television Love and it's out this Friday via their website and online stores.
Naomi Robinson and Conor Barton were just 17-years-old when they caught the attention of fans, tastemakers and the music biz after winning triple j's Unearthed High 2015 and placing #101 in this year's Hottest 100 with their ethereal single 'Call My Name'.
Following their big win the duo released two more singles – Commotion and Let's Be Friends, which were both got a lot of airplay.

Television Love was recorded at REC Studios Sydney, produced by Carl Fox and it's filled with breezy pop melodies, sun-bleached guitar and dreamy vocals. The EP is a great record to listen to as summer arrives, it's a perfect collection of psychedelic pop.
The title track is the bands new single, it's an instantly catchy tune with a vocal that is very reminiscent of Janet from Spiderbait's sound. In Time has a throbbing drumbeat and shimmering guitars with the vocals blurring into a wall of sound. While Slow Down features intriguing lyrics as Naomi Robinson sings about those moments when everything gets to be just a bit too much.
To promote the record, Naomi, Conor and their two band mates are heading out an 11-date national tour in 2017, playing a stack of shows as well as a couple of festival dates.
Tour Dates
02 Feb           Black Bear Lodge, Brisbane (with MEZKO + Ivey)
03 Feb           Northcote Social Club, Melbourne (with MEZKO + Soft Corporate)
04 Feb           Let Go Fest. 2017, Mornington
05 Feb           Karova Lounge, Ballarat (with MEZKO + Teal AV)
11 Feb           Ed Castle, Adelaide (with MEZKO + The Winter Gypsy)
15 Feb           Sosueme: Beach Road Hotel, Bondi
16 Feb           Rad Bar, Wollongong (with MEZKO + Tropical Wax)
17 Feb           Newtown Social Club, Sydney (with MEZKO + Dream Rimmy + Morning TV)
18 Feb           Mountain Sounds Festival, Central Coast
02 Mar           PIAF: Chevron Fest Gardens, Perth (w/ Margaret Glaspy + Frankie Cosmos)
Mosquito Coast also appearing at:
28 Dec          Southbound Festival 2016, Busselton (WA)
30 Dec          Lost Paradise, Glenworth Valley (NSW)
31 Dec          NYE on the Hill, Kernot (VIC)
Tickets on sale from mosquitocoast.com.au and the venues.
Top image by George Foster Photography, front page image by Penny Lane