Loton Park & Perth Pythons win at Pride In Sport Awards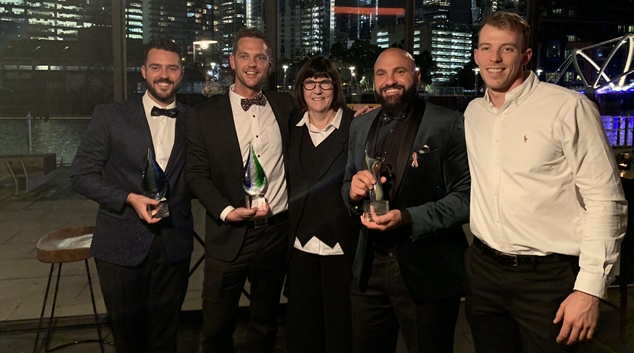 Local LGBTI+ sporting clubs Perth Pythons and Loton Park Tennis Club have been recognised at the Pride In Sport Awards this week.
Launched last year, the Australian Pride in Sport Awards is the first celebration of its kind dedicated solely to recognising exceptional efforts in making sport more inclusive of LGBTQ people. It is produced by Pride in Sport, the national not-for-profit sporting inclusion program spearheaded by ACON.
The awards showcase the results of the Pride in Sport Index (PSI) – a national benchmarking instrument used to asses LGBTQ inclusion within Australian sport.
Perth Pythons LGBTI+ Hockey Club won the award for LGBTI Community Sport while Loton Park Tennis Club were given the Small Club Award, and Loton Park's Tony Boutoubia (AKA Tony Tennis) was named as the LGBTI Out Role Model for 2019.
"We are so honoured to be recognised again by Pride in Sports Australia. This award will really motivate us to continue building our local family as well as working with the state and national bodies to develop more proactive inclusion programs and policies," said Reid Smith, Pythons' President.
"It's also really nice to share our success with Loton Park Tennis Club who were also celebrated with two awards, the Small Club award and the Out Role Model award going to their club president Tony Boutoubia. It's great to think that WA can really help set the standard for diversity and inclusion"
Last year the Pythons took home two Pride in Sports awards, the LGBTI small club award and the LGBTI Inclusive Coach award (Reid Smith). This year's nomination is based on the Pythons gold medal success at the 2018 Paris Gay Games and their 2018 Pride Sports Festival.
The Pride Sports festival was held during Pride Fest in November at UWA's Sports Complex and involved several other LGBT+ sports in a day of inclusive sporting exhibitions.
The ceremony also recognised Tennis Australia, Melbourne University Sport, Cricket Victoria and St Kilda Football Club for their commitment to inclusion.
ACON Vice-President and Co-Founder of the PSI, Andrew Purchas, said: "Despite significant recent gains in equality and law reform, the past year has shown that struggles continue to persist for LGBTQ people in Australia, including within the sporting sector,"
"These awards and the index continue to highlight the important inclusion work being done by many within Australian sport, as they provide sporting organisations and figures with an opportunity to reflect on their work in the inclusion of LGBTQ participants and staff, and identify areas they can address to ensure their sport is truly inclusive.
"Many of Australia's sporting organisations are taking the positive steps needed to be taken to ensure your sexuality, gender identity and experience does not impact your ability to play, watch or be involved with sport at any level.
"I congratulate all the award recipients and the many others working towards making Australian sport an inclusive place for everyone and I'm proud to celebrate those success stories at the Pride in Sport Awards today," Mr Purchas said.
The awards coincide with new guidelines launched this week to promote inclusion of transgender and gender diverse people in sport.
The Guidelines were developed by the Australian Human Rights Commission in partnership with Sport Australia and the Coalition of Major Professional and Participation Sports (COMPPS).
The Guidelines provide information on the Sex Discrimination Act 1984 (Cth) and guidance on creating and promoting inclusive environments in sport. Sport Australia CEO Kate Palmer said the simplest approach was to "put people first".
"Sport must be safe and inclusive for all because every Australian has the fundamental right to enjoy the wonderful benefits of sport and physical activity," Palmer said. "Sport Australia stands for inclusivity and we want every person in Australian sport to stand with us.
"Research tells us gender diverse people, particularly young people, want to engage more in sport and physical activity but often face or fear peer rejection. Let's ensure sport is a welcoming place that helps. Let sport be an example for broader society, showing how we can positively influence community connections and a better future.
"It must take strong, proactive leadership to stand up against any attitudes or behaviours that lead to discrimination in sport, so I urge every sporting organisation to use this resource as a guide to make your sport more inclusive. But it's not just up to our sport leaders, every single person involved in Australian sport can play an important part in being more inclusive."
Sex Discrimination Commissioner Kate Jenkins said the Australian Human Rights Commission consulted with a broad range of sporting stakeholders, including transgender and gender diverse participants across a variety of sports and competition levels to develop the guidelines.
"Unfortunately transgender and gender diverse people are sometimes excluded from sport or experience discrimination and sexual harassment when they do participate," Jenkins said.
"While some reported positive experiences of inclusion, others described how they had been excluded from the sports they loved because of their sex or gender identity. Some spoke of disengaging from sport during their transition journey because of their concern about how their team mates would treat them.
"I look forward to sporting organisations using these Guidelines to take steps to encourage the inclusion of transgender and gender diverse people in their sport."
COMPPS represents some of Australia's biggest sports, including 9 million participants and 16,000 clubs. COMPPS spokesperson Craig Tiley urged all sports to engage with the guidelines.
"We are proud to be involved in the development of these guidelines, but these are just words on pages until we, as sport leaders, implement them and bring them to life," Tiley said.
"As custodians for our sports, we all need to embrace and promote the importance of diversity and inclusion so that sport better represents individuals, communities and Australia as a whole."
Representing LGBTI sport charity, Proud 2 Play, outreach manager and sporting participant Bowie Stover says the Guidelines are a positive step towards the inclusion of transgender and gender diverse people in the wider sporting community.
"As a non-binary athlete and having worked with numerous sporting clubs and codes over the past few years, I've experienced first-hand the many positive outcomes that occur when clubs actively show support for their trans and gender diverse participants," Stover said.
"It benefits not only the trans and gender diverse community involved as players, volunteers and spectators, but also helps the clubs and all sports as whole, in creating a diverse and safe sporting environment for everybody.
"I encourage sporting clubs and bodies to adopt these guidelines in order to help ensure trans and gender diverse inclusion in their sports is proactive and that everyone is supported when joining their clubs, regardless of their sex or gender identity."
OIP Staff
---