Luke Bolton on why he's part of the X team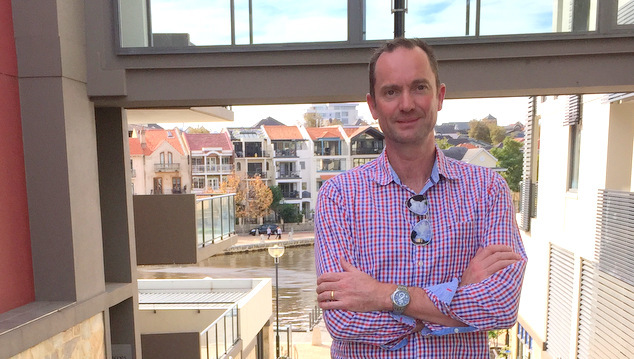 Luke Bolton is Nick Xenophon Team's lead candidate for the senate in Western Australia. The former chef turned communications professional sat down with OUTinPerth to outline why he thinks he has a lot to offer voters at this election.
Bolton describes himself as someone who has always been politically engaged, but not someone to bore his friends at parties with his political views. Bolton said over recent years he's become increasingly concerned about how as a society we treat other people.
"Why am I standing up today, why I am doing this today? I guess I really do want 'a fair go' for all Australians, and an inclusive society. I'd like to see education and health care available for anyone who wants it. I just think we're losing our way." Bolton said. "I've always had an interest in what is right for Australia and our world around us."
Bolton said the Australian political landscape could improve vastly in politicians stopped thinking in terms of election cycles.
"What attracted me to the Nick Xenophon Team, and what we can do as a force in the senate, is to actually encourage parties to pursue longer term policy for the benefit of all Australians."
"We will get behind the Labor, the Liberal or whoever – if it's a good idea that passes the 'sniff test' – then we'll want to say to them 'you know what, some negative gearing reforms is unpalatable during an election cycle mindset, but you know what, the longer term benefit to the nation needs to be considered."
Bolton said he joined the Nick Xenophon Team because it was a centrist party.  "We won't ever hold government, but we'll hold government to account."
"We support sound economic decisions and policy." Bolton said. The candidate said one the differences between his party and their opponents, such as The Greens, is that the Nick Xenophon Team isn't beholden to an ideological stance. "We'll look at things on their merits across the environment, economic and social."
On Marriage Equality
"It's a non-event. The fact that we're going to a plebiscite is going to $160 million – while we've cut funding to youth homelessness to the tune of about the same amount. You've got the public saying 'Hello! That's yesterday's issue lets move forward.' It worries me." Bolton said.
"What worries me further is you've got members of the major parties saying 'irrespective of the decision made at the plebiscite I won't honour it.' What are you there for? Respect the will of the people at least. Have some courage and trust the Australian people and what they want.
"You know what, where ever we've done it the roof hasn't fallen in. It frustrates me because it is a non-event. I don't even know what the fear is.
"What is important though is that for a child growing up it doesn't matter if it has two dads, two mums, or one with two heads and three arms, it's that that child is loved, is looked after and is told that they are worth something and have a chance to do whatever they want. That's what's important.
On Safe Schools
There's many angles to the argument, but I think you've got to look at the broader benefit of having these discussions in schools.
If you can have one kid who feels 'Hey, I'm not alone.', and you can challenge people who bully and ostracise people who are not the norm – then you're going to save people from self-harm, potential suicide. Your going to have people who are more productive, more comfortable with themselves and have greater self esteem.
Some of the concerns people have centre upon the age and which you have discussions… I haven't read the whole curriculum but I've visited the website and watched some of the video vignettes and I have no problem with it's content. I think you need to introduce it in a way that is age appropriate, but again, I don't think the sky is going to fall in.
If your unsure or confused about your sexuality, then you should be able to look around, and get people around you who can support and educate you and let you know that it's OK.
On homelessness
"I think you're only ever two meals and twenty four hours away from being homeless. When you talk to, and read about anyone who has experienced homelessness it can be from sudden loss of a job, from family breakdown, it can be a health issue. I firmly believe you're only two steps away from being in the street.
"As a community and society I think we're getting back our compassion, and government needs to catch up. I think we got a little bit mean spirited, I put some of that down to the affluence of the mining boom. I think some of us got very caught up in ourselves, and it's all about me. What I'm seeing now when I talk to people is more of a connection of an inclusive community." Bolton said.
"How we address homelessness, pure and simple it's about housing affordability. We do need to have a mature discussion about negative gearing. We've got to make houses more affordable, but also governments need to fund, not cut funding to charity groups. People like the Salvation Army and St Vincent de Paul, people who provide crisis accommodation.
"Everything we do as a government, whether at a federal or state level, should be looking at early intervention and treating the cause. We need to go right to the base of it, because talking economically you'll save more money in terms of funding mental health and housing affordability than you will trying to jail people or police them at the other end. It's all about early intervention.
On health
"Just look at the freeze on the medicare rebate, in 2014 they said we're going to charge you with a co-payment, that got shouted down… but they're bringing it in through other measures – which is the co-payment by stealth. The fact that we're actually going to step away from universal health care in Australia – which is a worry." Bolton said.
"We're not seeing an improved healthcare system, we need more funding for our hospitals."
On education
"I want more funding for our schools, the fact that the Gonski reforms have stalled. I want any kid, regardless of where they are, to be saying 'I want to have a go at this' and you should be able to. That translates into do you want to do a trade or you want to go to University, it shouldn't just be a user pays system."
On the environment
"Take a look at what's happening to the Great Barrier Reef, we need to be acting on that, but we see things from a national politic in purely economic terms, or purely environmental terms, or purely social terms and they can't be separate prisms." Bolton said.
"So you look at everything it encompasses, so you look at the great barrier reef, or you say 'Oh the Carmichael mine is going to be great, it's going to ensure jobs and its going to lift more coal out in our exports – but you've got to look at the tourism impact, and also the world impact. We're going to lose the Great Barrier Reef."
On innovation
"We want to encourage innovation, we want to encourage small business. We don't want to talk in macro terms." Bolton said.
Bolton said the major parties continually talk about jobs and growth and innovation but he questioned their commitment given some recent government decisions.
"We want to say 'what does that actually mean?' If you're talking about innovation why have we cut CSIRO, why have we cut the department of agriculture, why are we making science un-sexy again?"
"We want to encourage small and medium businesses to have a go, people who are employing 10 to 20 people – they're the ones who need support and getting the roadblocks cleared, so they can produce, because their sustainable."
Find out more about Luke Bolton and the Nick Xenophon Team. 
Graeme Watson
Declaration: Many years ago Graeme Watson was the General Manager of RTRFM, around the same time Luke Boton used to appear on the program 'Breakfast with Barr' talking about food.