Shelton: Swedish army is ramming a political agenda down people's throats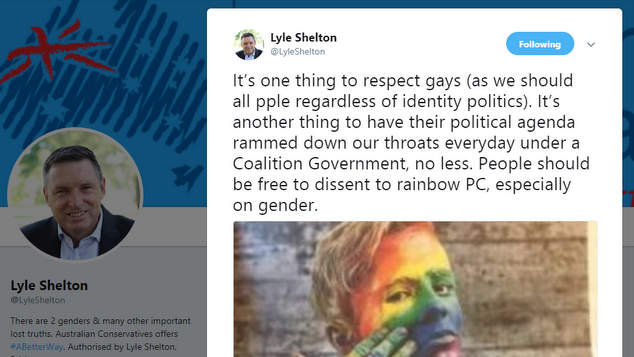 Update: 30-01-2018 1:00pm 
Australian Conservatives senate candidate has admitted he mistook an Pride advertisement from the Swedish Army, and thought it was a campaign from the Australian army.
"Someone sent me the image and I mistook it for the Australian Army. My bad. I can only hope the Australia Army doesn't keep going down this path, given the politicisation of the sacred Rising Sun badge for Mardi Gras. People who disagree with same-sex marriage or that gender is fluid should be free to dissent openly." Shelton told OUTinPerth.
---
Australian Conservatives Senate candidate Lyle Shelton has criticised the Swedish Armed Forces Pride campaign saying it is an example of a political agenda being 'rammed down people's throats'.
Sweden's armed forces are celebrating the country's annual Pride celebrations and highlighting that their military is an organisation that embraces diversity and equality.
During the Pride celebrations their armed forces have launched a campaign called We Don't Always March Straight. The campaign involves a website and newspaper advertisements that highlight their commit to diversity with an image of soldier painting rainbow camouflage on their faces.
"We don't always march straight, But no matter when or where we march, we always stand up for your right to live the way you want with whoever you want." the campaign declares.
The defense organisation says it's role is to stand up for the values the Swedish people hold dear; sexual orientation, gender identity, or gender expression.
During Pride month there is a calendar of events that the service personnel are involved in including talks, demonstrations and other events. They note that they've been taking part in the pride celebrations since the turn of the century.
Shelton, the former Managing Director of the Australian Christian Lobby, who is the Australian Conservatives lead senate candidate in Queensland took to Twitter to express is opposition to the campaign.
"It's one thing to respect gays (as we should all pple [sic] regardless of identity politics). It's another thing to have their political agenda rammed down our throats everyday under a Coalition Government, no less. People should be free to dissent to rainbow PC, especially on gender." Shelton posted alongside a cropped image from the campaign.
Followers on Twitter highlighted the irony of his post noting that he himself was often pushing a specific political agenda, but Shelton argued back pointing out the key difference was he was not utilising tax payer dollars to promote his message.
Twitter users also wondered if Shelton's was commenting about Sweden's coalition government, that comprises The Social Democrats and The Greens or suggesting that the campaign was the product of the Australian government.
OUTinPerth contacted the Australian Conservatives for additional comment.
---