Diversity in the armed forces – imagine if it was more than a finger nail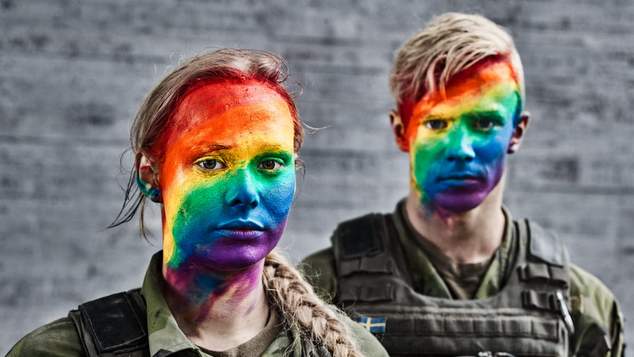 OPINION
Sweden's armed forces are celebrating the country's annual Pride celebrations and highlighting that their military is an organisation that embraces diversity and equality.
During the Pride celebrations their armed forces have launched a campaign called We Don't Always March Straight. The campaign involves a website and newspaper advertisements that highlight their commit to diversity with an image of soldier painting rainbow camouflage on their faces.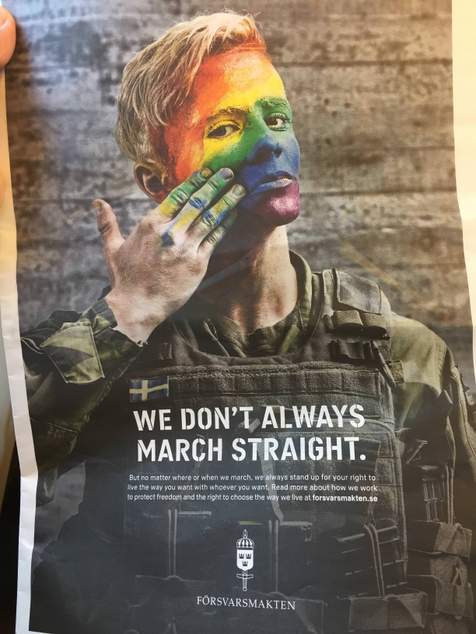 "We don't always march straight, But no matter when or where we march, we always stand up for your right to live the way you want with whoever you want." the campaign declares.
The defense organisation says it's role is to stand up for the values the Swedish people hold dear; sexual orientation, gender identity, or gender expression.
During Pride month there is a calendar of events that the service personnel are involved in including talks, demonstrations and other events.
They note that they've been taking part in the pride celebrations since the turn of the century,
Here is Australia our armed forces always get a rousing reception at the Sydney Gay and Lesbian Mardi Gras – despite conservative voices arguing the organisation should not be in the parade because celebrating gay rights in a "political act".
It's not the first time Sweden has delivered a visually arresting campaign. Back in 2015 they launched a poster that featured a soldier in traditional camouflage – except for her rainbow pride badge being visible.
Here is Australia in the last week our own Navy has tried to highlight that it too is celebrating diversity and equality by taking part in the '100 Days of Change' campaign. The campaign aims to encourage gender equality in Australian workplaces.
An image of Lieutenant Maritime Warfare Officer Jonathan Milton sporting a fingernail painted pink has sent conservative commentators into a spin.
James Brown, the head of the New South Wales RSL told The Australian the Navy had made a mistake by taking part in the campaign.
"Navy has made great progress in making sure women aren't unfairly treated," he said. "But ordering uniformed personnel to join social-activism campaigns is a step too far and risks politicising the defence force."
Former Labor leader Mark Latham fired a message off across his social media platforms.
"THIS WILL SCARE THE ENEMY," he typed in capitals on his Facebook and Twitter feeds. "Sadly, this is not a joke. It is the Australian Defence Force under Marise Payne and Malcolm Turnbull."
Andrew Bolt published a column in the Herald Sun under the title 'Priscilla's Navy' arguing that the Navy should be focused on saving us from "invaders".
Bolt said the armed forces seemed to have a fascination with cross dressing, listing a previous stunt where former Army Chief David Morrison wore high heels to campaign against violence directed at women. The columnist later listed the finger nail painting for further discussion on his Sky News program.
News Corp stable mate Miranda Devine posted to Twitter, "Honestly. This is not your job. We pay you $35billion a year to keep us safe, not to virtue signal."
Claire Lehmann, the editor of conservative publication Quilette mocked the campaign. "We shall never surrender … our manicures." Lehamnn posted to Twitter.
Former political candidate for the Australian Liberty Alliance Kirralie Smith – who has now swapped to Cory Bernardi's Australian Conservatives party – took to Twitter and declared the campaign was an affront to all service personnel.
"Stick to defence and employing people according to merit and ability not their gender. This is an affront to REAL diggers — male and female — who just want to get on with their job. Your virtue signalling makes you look weak and an embarrassment to the rest of Australia." Smith wrote.
…….I guess it's good we went with just a finger nail at this point.
Graeme Watson
Send emails to [email protected] and follow Graeme on Twitter.
---