Mapplethorpe: Look at the Pictures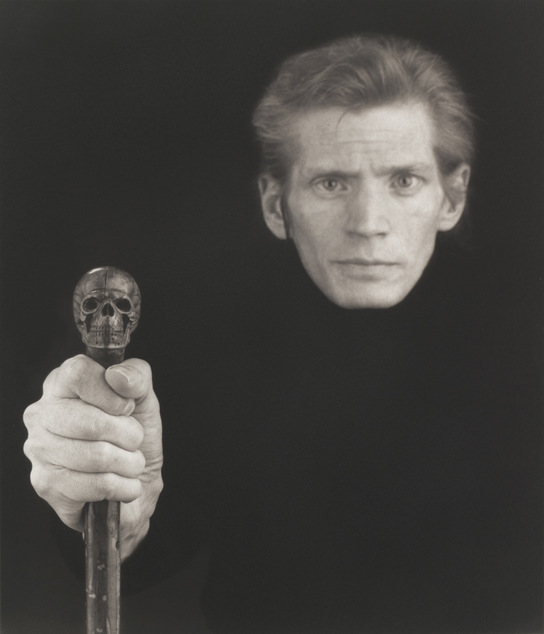 The Revelation Perth International Film Festival has an exciting programs of films running over the next 10 days. One film that is particularly fascinating is a documentary on photographer Robert Mapplethorpe.
Mapplethorpe: Look at the Pictures (R)
Directed by Randy Barbato and Fenton Bailey

Robert Mapplethorpe was a known homosexual who died of AIDS and spent the last years of his life promoting homosexuality, at least according to conservative US Senator Jesse Helms who was trying to ban an exhibition of Mapplethorpe's photographs. Although it was 1989, Helms was horrified by the graphic sexual depictions and confronting S&M images. "Look at the pictures!" he cried to Congress.
That's exactly what Randy Barbato and Fenton Bailey do in their documentary – they look at Mapplethorpe's subversive, sexually explicit and evocative pictures. Although time has slightly blunted their provocative edges, the beautifully composed photographs have gone from disgusting to iconic, with auction prices to match. The filmmakers weave personal and cultural histories to expose the life and vision of this ground-breaking artist.
The filmmakers interview family, friends, models and lovers who remember Mapplethorpe's charismatic charm and good looks. They speak with curators arranging two retrospective exhibitions in Los Angeles and they have unearthed archival interviews where Mapplethorpe speaks about loving to provoke but also hoping that people will see the sense of humour in his works.
Robert Mapplethorpe was born in 1946, into a white middle-class Roman Catholic family living in Queens. He grew up with the extreme conservatism of 1950s America. As a teenager, he was hugely influenced by the 1960s protests for liberation and started challenging boundaries at art school. Connecting art with arousal early on, he made collages by using forbidden images from gay pornographic magazines.
After dropping out of art school, he experimented with drugs and explored New York's promiscuous gay scene. He was able to indulge in the reckless hedonism of sadomasochistic gay sex and produce homoerotic photographs to challenge both the sexual morals of the time and the concept of art.
In 1972, Mapplethorpe met and became lover to Samuel Wagstaff who bought him an expensive camera, gave him a studio and used his social connections to promote his work. Mapplethorpe was able to hire printers, including his younger brother Edward who was also a photographer and with whom there was some rivalry.
During this time, portraits of high-paying celebrities and flowers showed off his competence in producing beautifully lit black and white imagery. Mapplethorpe was entranced by beautiful bodies. Portraits of body builder Lisa Lyon added a female slant to his portfolio and he became obsessed with the physique of African American males.
Mapplethorpe says in the film that his biggest turn-on is seeing the devil in everyone as he saw Satan as a "convivial playmate". Certainly one of his most famous photographs is a self-portrait depicting himself as the devil with a bullwhip tail emerging from his rectum.
The 1989 exhibition was cancelled and, although he had already died at the age of 42, Mapplethorpe became the pinup boy for free expression and gay rights. Anti-censorship protesters projected images of Mapplethorpe's work onto the façade of the Washington gallery.
As the photographs often played on the edge of pornography, there are still places that consider Mapplethorpe's photographs too transgressive. But the fact remains that he is one of the most remarkable photographers of the second half of the twentieth century. His works of art retain their power and provocativeness today … so let's look at the pictures.
'Mapplethorpe: Look at the Pictures' screens as part of the Revelation Film Festival at Cinema Paradiso, Luna and Luna on SX from 9 July. See revelationfilmfest.org or lunapalace.com.au for times and ticket purchases.
Lezly Herbert