Mazda 323 Protege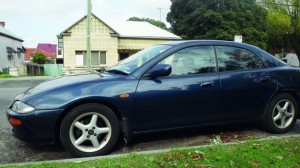 This month we continue our series of LGBT people and their cars and we get some tips on buying a second hand car. 
It's a known fact that writers don't have the most outrageously paid careers. But the more successful among us are capable of producing not only a secure income, but also an interesting body of work, reflective of our unique capabilities.
Lara Jane (not her real name) is one of the rarest of writers: a ghostwriter. It's a peculiar careeer path to choose. After all, the majority of the work done by a ghostwriter is behind the scenes, the end result attributed to another author or, as sometimes is the case, a celebrity of minor or major standing. For Jane, her luck has been such that she has ghostwritten the biographies for a few minor celebrities.
Of course, due to contractual agreements, we can't tell you exactly who those minor celebrities are. But we can tell you that the success of Jane's work is such that she's landed back in Perth to take some time off and catch up with family. And while here, she's remembered that there is one crucial element a person requires to make their way around the wide urban sprawl that is Perth: a car.
'Now that my brother and sisters have got families of their own, I've found that in order to get around town and visit them all, a car is essential,' Jane told OUTinPerth.
Particularly when that family is as widespread as Ellenbrook to Fremantle, after all, covering that distance on public transport can be done, but it does take its toll.
'I find Perth is a difficult city to get around by public transport, especially if you want to travel at your own pace and with your own sense of ease. I noticed they've extended the trains until much later since I was last here, but still… there's a certain ease that comes with having your own car in Perth: the ability to visit the beach or check out the shops in Claremont, or even just drop in on the rellies in Ellenbrook is something you can't do on the bus. Well, you can… but it's a mega bus ride.'
Hence Jane's Mazda 323 Protege, she remarks on it being such a surprisingly deceptive car to drive. At first glance she thought the sedan hatchback wouldn't be able to fit her grocreries, let alone her life, but she was delighted to learn that the car could certainly pack it away.
'I bought the car mainly because it was cheap and economic, but discovered that it's actually got a whole heap of boot space. And of course, the seats come down in the back, making it that much easier to lug the odd bit of furniture around.'
Then of course there's the sportiness of the car. It has an inner city zippiness that makes it a dream to navigate all the hotspots.
'I'm glad it can pick up speed the way it does: I do like to be able to take off with a little grunt, and it certianly delivers. I wasn't expecting it to purr like it does, but again, it's been a suprise purchase.'
The only catch, if any, is how low the vehicle is.
'I've never driven a car this low before. It does make you a little more aware of where you drive: Perth seems to have developed a love affair with calming down any hoon-like behaviour, and there's a surplus of speed bumps in even the meekest suburb.
'Driving a little beauty like this, you do suddenly become conscious of navigating these speed bumps – there's nothing more gauche than audibly scraping the bottom of your car on a speed bump in my mind, especially if you're trying to make it all look so effortless. So you either learn to take those speed bumps with a certain slow elegance, or discover alternate routes, preferably one that won't see you forking out for a new paint job.'
Not that Jane plans on owning the car for that long: contractual arrangements will see her back over East, working with a new client, just after the New Year. So what will happen to the car?
'Well, I bought this vehicle with a double intention. The first was to ensure I had something to get me around Perth with ease and that actually looked good. The second was so that I could give my nephew an awesome 21st present come January. With his parent's consent, of course – I'm not about to step on any toes, but at the same time I want to make sure that I'm known as the cool aunt,' Jane laughed.
Scott-Patrick Mitchell